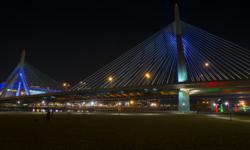 This dynamic, eye-catching bridge, with its dynamic LED lights, once again serves as a beacon of light for Boston residents, neighbors and visitors
Boston, MA (PRWEB) December 19, 2012
The Massachusetts Department of Transportation (MassDOT) Secretary & CEO Richard A. Davey celebrated the relighting of the Leonard P. Zakim Bunker Hill Bridge with local officials, community leaders, the Zakim Family and the Zakim Fund. The Energy-efficient LED lighting system from Philips Color Kinetics bathes towers in blue light and renews the tribute to the late civil rights leader. Video and pictures from the event can be found at http://www.forummedia.us/zakimbridge.
"Since construction, this bridge has served as a symbol for the Commonwealth," said Secretary Davey. "Today, we renew our belief that a bridge can be more than a symbol. It can help build community. This new color technology will allow us to promote, engage and inform our community in a sustainable way."
"This dynamic, eye-catching bridge, with its dynamic LED lights, once again serves as a beacon of light for Boston residents, neighbors and visitors," said Jeff Cassis, general manager of Philips Color Kinetics. "Our work with the Massachusetts Department of Transportation, Zakim family, and The Lenny Zakim Fund serves as a model example of how a joint public/private collaboration and commitment can strengthen our Boston community."
Secretary Davey began the official countdown to reveal the bridge towers bathed in stunning blue lights. The $150,000 investment allows MassDOT to light the Bridge towers in a more dramatic blue, but LED technology from Philips lighting also lets MassDOT create custom colors remotely, with the push of a button, with zero impact to traffic in order to participate in charity lightings and special events. In the past, any color adjustment required a pre-planned lane closure and manual filter changes on metal halide lights.
In keeping with its GreenDOT policy, MassDOT is reducing energy consumption by approximately 80 percent with the installation of this dynamic LED lighting solution, made up of 16 fixtures.
For more information, please visit http://www.forummedia.us/zakimbridge