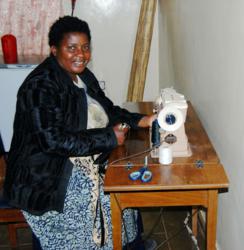 We are interested in providing leadership training to the women in addition to helping them create an additional source of income.
(PRWEB) September 09, 2011
Zambia Mission announced today that they are giving away up to 1300 "Bana" bags during their Tree of Mercy Benefit event. The bags are made by Zambian women primarily using treadle sewing machines and are sold to create revenue that supports orphans in Zambia.
The country of Zambia, located in sub-Saharan Africa has one of the highest rates of orphans in the world and Zambia Mission in conjunction with a project called "Bana" Bags is attempting to provide women caring for orphans with an additional means of support. The project was conceived by Sheryl Ramsey of Colorado Springs, Colorado and she was quickly joined by her friend Benita Thomas. The women wanted a way to help women in Zambia who were supporting orphans to be able to earn additional income.
The bags are made by Zambian women who have been invited to join the program. Each woman is sent to school in Zambia to learn how to sew using both treadle sewing machines and more modern machines. Once the education is complete Bana Bags provides the women fabric and instructions on how to make the bags. "Many of the women who have been in the program for a few years are assigned to be mentors to the newer members of the team" according to Eleanor Hamby who is a co-director of the annual Zambia Medical Mission and helps promote the program. "We are interested in providing leadership training to the women in addition to helping them create an additional source of income."
The women are encouraged to do enough work each year to create the equivalent of $500 U.S. Dollars. "Five Hundred Dollars can make a huge difference in the lives of Zambian Families" according to Zambia Medical Mission Co-Director Dr. KB Massingill and President of Franchise Thinking. "This is an amount of money that can definitely make a difference in whether a child can attend school for a year, and helps set food on tables for families that may be caring for multiple orphans." Massingill says many families are faced with tough choices about which children get to attend school.
The bags are made from fabric obtained in Zambia that is often called "Chitenge" fabric, because women use two approximately two meters of the fabric as a wrapped-skirt that they call Chitenges. "We considered sending fabric to Zambia for the bags, but in the end we realized there was an elegance to using Zambian fabric, because it tends to appeal to women both within Zambia and outside of Zambia." The bags are often brought back to the United States and sold at church meetings and other benefit events.
Bags are generally sold for as little as $10.00 and up to $30.00 for bags that are more sophisticated, and include zippers etc. The women also produce headbands, and makeup bags that tend to be very popular. "We sell the bags that are made on the treadle sewing machines sell for a little less because it is more difficult to produce a quality product with them" according to Benita Thomas, one of the project's co-founders.
Sheryl Ramsey, the projects founder says she hopes that they will be able to add at least one new seamstress per year to the project. All revenue from the project goes directly to the participants, or is used to grow the program and add new participants.
Organizations or individuals interested in selling the Bana Bags or purchasing bags may find more information at http://www.ZambiaMission.com
###