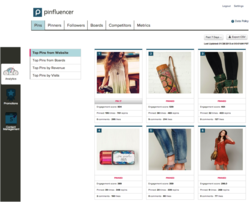 San Mateo, CA (PRWEB) February 13, 2013
Pinfluencer, the leading marketing and analytics platform for Pinterest, today announced it has been selected by the leading online apparel and footwear company Zappos to provide performance analytics about campaigns on the social media site Pinterest. Pinfluencer will analyze Zappos' activity on Pinterest, helping the Zappos product team to drive more engagement among its customers.
Brands embrace Pinterest as a way to connect with consumers by catering to their demonstrated interests online. With Pinfluencer, these brands can see what content and sharing trends are leading to sales, identify key influencers who are driving these conversions and effectively market to these individuals through custom promotions, contests and sweepstakes campaigns.
A company renowned for its active social media community, Zappos prioritizes its content marketing efforts as well. The Zappos blog is updated multiple times a day with a variety of content covering new brands Zappos highlights, musical suggestions and peeks behind-the-scenes. Conversation is robust on the company's social networks thanks to the posts produced by the Zappos staff.
"Pinfluencer creates a web-based platform for us at Zappos to easily track online performance of our boards on Pinterest," said Graham Kahr, social scientist at Zappos. "Through Pinfluencer, we have been able to boost audience engagement, site traffic and virality which results in increased earned media conversations and sales for our company. We now have a way to actually measure the ROI of our Pinterest initiatives. This is huge for us as a company and for the industry."
The Pinfluencer dashboard provides insights into pins that drive engagement, clicks and revenue and saves marketers hours of manual work by automatically tracking user eligibility and allows them to proactively interact with the ineligible participants to maximize the success of the promotions on Pinterest. This dashboard also allows Pinfluencer clients to dig into what is driving engagement and amplification.
Last month, Pinfluencer announced its image recognition technology and over 100 successful promotions offered through its platform, having delivered over 250 million impressions reaching millions of users on Pinterest. Brands who ran their contests and sweepstakes on Pinfluencer increased their follower acquisition rate by 156 percent while their pins/day jumped by 125 percent. Since the October 2012 beta launch of its promotions and contests platform, Pinfluencer has hosted and tracked more than 100 promotions for brands such as Gilt, Jetsetter, WayFair, Martha Stewart and Shape Magazine.
"We are delighted to be working with Zappos to power their social media programs on Pinterest," said Sharad Verma, CEO of Pinfluencer. "Zappos trusts Pinfluencer to help provide insight into how successful their content curation is performing on Pinterest. We provide a lens that encourages people to not only repin photos of beautiful Zappos products, but to track social sharing back to hard ROI numbers, critical for brands to consider when allocating their marketing budgets."
About Zappos.com
Established in 1999, Zappos.com, operated by Zappos Development, has quickly become the leading destination in online apparel and footwear sales by striving to provide shoppers with the best possible service and selection. The Zappos Family generates gross merchandise sales exceeding $1 billion annually. Zappos.com currently showcases millions of products from over 1000 clothing and shoe brands. Zappos.com, Inc. was recognized in 2009, 2010, 2011 and 2012 by FORTUNE MAGAZINE as one of the "100 BEST COMPANIES TO WORK FOR". Zappos.com is also proud to be rated ELITE by STELLAService and was named a J.D. Power 2011 Customer Service Champion, one of only 40 companies so named in the U.S. More information about the customer service philosophy, unique culture, and job openings can be found at http://about.zappos.com. More information about Zappos Insights, and its business membership program can be found at Zappos.com is a subsidiary of (AMZN) Amazon.com
About Pinfluencer
Pinfluencer is the leader in marketing and analytics for Pinterest. The first to launch a complete marketing suite and incorporate conversion and revenue metrics, Pinfluencer already has dozens of well-known retailers, brands and publishers using its promotions platform to run contests and sweepstakes and analytics engine to easily identify and connect with influential brand advocates, gain actionable insights into trending pins and boards, and measure key virality metrics to quantify brand engagement with a Pinterest audience. For more information on Pinfluencer visit http://www.pinfluencer.com.
Contact Information
For Pinfluencer:
Sharad Verma
CEO
408.594.9728
sharad(at)pinfluencer(dot)com
For Zappos:
Brittany Votto
Inner Circle Labs
415.684.9406
zappos(at)innercirclelabs(dot)com