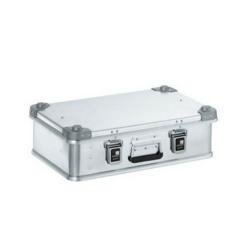 Since ZARGES offers many customizable options for our cases, maintaining our close relationships with customers helps us determine and create the best product to fit their needs.
Charlotte, NC (PRWEB) May 07, 2013
Every year the Real-Time and Embedded Computing Conference (RTECC) travels to over 20 growing markets for a one day technical conference. This event focuses on bringing the most innovative ideas and technologies, emerging technologies products, and most recent news to the engineering community through a day filled with conference sessions, exhibitions, and networking events. The thousands of guests that attend at least one RTECC event have the unique opportunity to learn, explore, network, and get a leg up on the competition.
RTECC is the event for software and hardware engineers and managers to connect with the many different industries they supply computing systems for, and learn from the best in the engineering community. With thousands of professionals from a variety of industries, ranging from the military and aerospace, to consumer devices, to medical instrumentation, to data communication, guests are able to talk face-to-face with experts, existing vendors, and potential clients. Attendees have the opportunity to learn and gain insight to the latest engineering news though keynote presentations, breakout seminars, workshops, and vendor exhibitions. This year, ZARGES, the leader in aluminum transit cases, will have exhibits in both Nashua on May 7th, and Boston on May 9th, and is looking forward to seeing their existing customers and establishing relationships with new attendees.
"The RTECC is a great opportunity for us to reconnect face-to-face with our customers," says Tracy Johnson, the National Sales and Marketing Manager for ZARGES. "Since ZARGES offers many customizable options for our cases, maintaining our close relationships with customers helps us determine and create the best product to fit their needs."
As the trusted aluminum case provider for industries ranging from chemicals, to aviation, to the entertainment industry, ZARGES works closely with clients to fulfill all shipping, storing and transit needs. ZARGES aluminum cases are perfect for all industries because they are durable and rugged, yet also lightweight and eco-friendly. This is perfect for the engineering industry because whether transporting computing systems to the military, medics, or consumers, ZARGES aluminum cases can counted on to keep supplies and equipment safe and secure.
Aluminum characteristics allow the material to have ⅓ the density of steel, yet still be able to endure extreme weather conditions, stand up to strong UV-radiation, and absorb any impact energy. On top of the natural characteristics of aluminum, buyers also get the added benefits that come with the ZARGES name. With over 75 years of experience working with aluminum cases, ZARGES has introduced innovative changes (including customizable inserts, best methods of production, and developing new accessories) that help ensure their reputation as a top aluminum case provider. When purchasing from ZARGES, consumers get so much more than an aluminum case, they get the ZARGES quality guarantee.
Visit the ZARGES booth in the exhibit area of the RTECC. By stopping by the ZARGES booth, you will be entered for a chance to win one of ZARGES' most popular cases, the K470 #40810. For more information about ZARGES aluminum transit products, head to the ZARGES website http://www.zargescases.com/. To make an appointment with ZARGES while at RTECC, either stop by the ZARGES booth, or fill out the ZARGES contact form online. Feel free to connect with ZARGES while at RTECC on Facebook and Twitter @zargesUSA. We hope to see you there!
About ZARGES
For over 75 years, ZARGES has delivered unparalleled protective aluminum transit cases and rackmount systems for all industries. Headquartered in Welheim, Germany, and a Tech Center based Charlotte, North Carolina, ZARGES provides exceptional service for their clients from all over the world. ZARGES believes in constantly improving their high quality products by exploring emerging technologies, encouraging innovation, and developing new ideas. For more information on ZARGES, visit their website at http://www.zargescases.com/, connect with them on Facebook, or follow them on Twitter @zargesUSA.