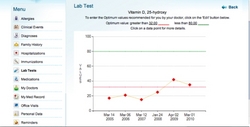 La Jolla, CA (PRWEB) March 25, 2010
Dr. Fred Abbo, a long time physician, announced today his creation and design "Abbo EMR" - a new state-of-the-art medical record system. Programmed by Zco Corporation, this system will allow for paperless communication between doctor and patient via Internet and mobile phone. Abbo EMR gives patients complete access to their medical records including reminders and lab reports.
For the patient, Abbo EMR is a log-in web and mobile document in which they can view and, if necessary, update their own complete medical record. The data would include information like current and past diagnoses, medications, office visits, lab results and physician's instructions. Patients can view the doctor's office recommendations instantly in the comfort of their own home and carry their entire medical record with them on their Smartphone. Reminders for the patient are sent to the patient both as a text message on their mobile phone and by email.
One of the most valuable features in Abbo EMR is graphing. Quantitative medical data such as lab test results, EKG parameters or life-style parameters, are easily plotted on a graph, to detect any significant trends. This is a beneficial visual for patients who are working on improving lab results, such as cholesterol and vitamin levels, to see how their results are improving over time.
Dr. Abbo reached out to app developer Zco Corporation for the completion of Abbo EMR because of their unique experience in both industrial strength backend and mobile applications. Zco specializes in multi-platform app development including iPhone, iPad, Android and Blackberry as well as backend industrial strength applications including .Net and Java Technologies.
Details on how to get started with ABBO EMR will be available next month, April 2010, on its official launch date.
About Dr. Abbo:
Dr. Fred Abbo holds a BA from Harvard, a PhD from the University of California, Berkeley and an MD from the University of Iowa. He is currently practicing at Scripps Memorial Hospital in La Jolla, California and has devoted his career to studying methods of extending the healthy lifespan of humans.
About Zco Corporation:
Now in its 20th year of service, Zco Corporation specializes in custom software development using Microsoft and Java technologies. Zco is also one of the largest mobile application developers in the world – extending to all mobile platforms including the iPhone, iPad, Android and Blackberry. http://www.zco.com
###