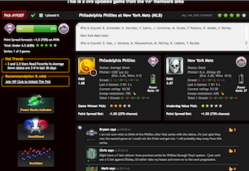 we've come as close as we can to the results of tomorrows almanac
Las Vegas, NV (PRWEB) September 19, 2012
New software has recently been released to the public that is creating a ton of buzz and curiosity in the sport betting world. Yet they are not referring to it as sports betting, they are calling it sports investing. Using algorithims and patterns similar to that of the Forex market, Z Code system is much different that most sports betting software.
According Ron, spokesman for Z Code, "We've come as close as we can to the results of tomorrows almanac." A quick Z Code System Review reveals a few secrets inside this new sports investing software.
For the past 13 years, the creators of the Z Code System have been gathering sports data for all the major sporting events like Baseball, Football, Basketball and Hockey. They've crunched the numbers, analyzed the stats and tested the patterns to see what makes teams win or lose.
With this data, they've been able to consistently predict winning results month after month by analyzing numbers based on past history. "This isn't gambling anymore," says Ron. "This is sports investing."
Similar to market investors who can predict which way a stock will move using technical indicators and mathematical formulas, sports enthusiasts can predict the outcome of a game most of the time. Never is it 100% accurate, because there are surprise factors. However, it is much more predictable than stocks because it doesn't rely on factors that involve emotion, greed and media speculation.
For those wanting to take a closer look into the system should http:// visit the official website.
It's based on actual sports data that has occurred down to each specific player and team that will give the sports investor a very accurate prediction. Over the last 14 months, the Z Code System has been tested publicly on Facebook with many raving fans. According to Ron, they've never had a losing month, not one.
To learn more about this software, visit the official Z Code System site.