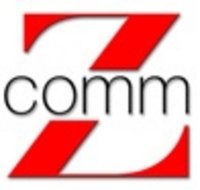 With our rapid and record breaking growth over the last year, it is important to add talented individuals to help us continue to serve our clients with the same high level of service
Bethesda, MD (PRWEB) December 9, 2009
zcomm, a nationally-certified Women's Business Enterprise (WBE) marketing agency specializing in audio and video production and Broadcast and Digital PR, strengthens its leadership by adding Robin Lane as the Director of Client Services and Eric Minuskin as the Broadcast and Radio Team Lead. The two new hires will help support the company's continued success and growth.
Risë Birnbaum, founder and CEO of zcomm stated, "With our rapid and record breaking growth over the last year, it is important to add talented individuals to help us continue to serve our clients with the same high level of service. I am thrilled to have Robin and Eric join our team and add their expertise to bolster our account management and servicing capabilities."
As the Client Services Director at zcomm, Lane brings more than 10 years of experience developing and executing traditional and social media strategies and events, creating successful thought leadership programs and integrating SEO and other digital tools into PR campaigns. Lane will work with both clients and staff to develop effective PR strategies that provides measurable results to meet each organization's goals. Prior to zcomm, Lane was the Director of Public Relations for Vocus, the leader in PR management software and its online news distribution service, PRWeb.
Minuskin joins zcomm's Broadcast and Radio Team to develop and oversee national account activities for clients in the consumer, healthcare, technology, sports and entertainment industries. He previously managed a variety of national consumer and healthcare accounts for agencies including Cohn & Wolfe in New York.
zcomm, short for zcommunications, is a national, top-ranked, woman-owned communications firm offering a wide range of broadcast PR services available. Specializing in creating, packaging and distributing client messages and content, zcomm uses the latest technology to deliver measureable results to industries including consumer product, food and beverage, healthcare and advocacy.
About zcomm
zcomm is a privately held, national public relations firm located in Bethesda, Maryland, a suburb of Washington, D.C. Founded in 1987, zcomm specializes in the production and distribution of various broadcast PR services such as radio news releases, satellite and radio media tours, social media, podcasts and radio promotions, in English and Spanish.
# # #