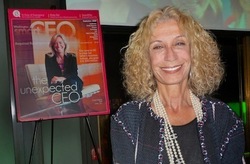 I am honored to be selected as one of the Brava! 100 Women
Bethesda, MD (Vocus) September 24, 2010
zcomm, a nationally-certified Women's Business Enterprise marketing &communications agency specializing in audio and video production & distribution and Digital PR, today announced that CEO Rise Birnbaum has been named one of Greater Washington's Brava! 100 women by Washington SmartCEO Magazine. According to SmartCEO, the awards program recognizes innovative, trend-setting and visionary executives who are making an impact on their company's present and future success.
"I am honored to be selected as one of the Brava! 100 Women," said Rise Birnbaum, chief executive officer of zcommunications. "As the demands of the industry evolve, zcomm continues to enhance our PR services with the latest technology to get results that meet and exceed client needs."
Brava! 100 celebrates the top 100 female entrepreneurs in Greater Washington who are making unprecedented strides in business and who are building a stronger community financially, philanthropically, and most importantly, through leadership. The winners are profiled in Washington SmartCEO's September issue. SmartCEO is a regional monthly business publication. The magazine serves as a resource of smart ideas to help educate, motivate and inspire decision-makers all across the Mid-Atlantic.
In addition, zcomm is featured among the top firms for Healthcare and Beauty and Fashion PR in O'Dwyers 2010 Rankings.
zcomm, short for zcommunications, is a national, top-ranked, woman-owned communications firm offering a wide range of broadcast PR services. Specializing in creating, packaging and distributing client messages and content, zcomm uses the latest technology to deliver measurable results to industries including consumer product, food and beverage, healthcare and advocacy.
About zcomm
zcomm, short for z communications company, is a national broadcast public relations firm located in Bethesda, Maryland, a suburb of Washington, D.C. and ranks as one of the top 15 PR firms in Washington, DC. Founded in 1989, zcomm produces audio and video packages and distributes client content via radio, TV and online. Specializing in broadcast PR services such as radio news releases, satellite and radio media tours, social media, podcasts and radio promotions, zcomm uses the latest technology to deliver measurable results to industries including for government, consumer, healthcare associations, beauty and fashion, corporate and more . zcomm's services are available in both English and Spanish. For more information, visit http://www.zpr.com. Follow zcomm on Facebook or Twitter @zcommunications for the latest information.
# # #