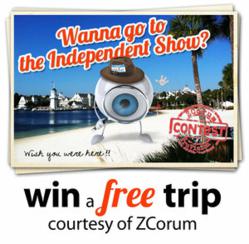 I fully expect someone to walk up to me and ask for a demo of TruVizion because they read about it on our Website as part of the contest.
Alpharetta, GA (PRWEB) May 07, 2012
Want to go to the Independent Show? If you work for a broadband service provider who happens to be a member of the National Cable Television Cooperative (NCTC) or the American Cable Association (ACA), you might be able to go for free. ZCorum, a provider of managed services and software for broadband providers, is asking employees of NCTC and ACA member companies to put their scavenger hunt skills to work in an online contest that will send one lucky winner to Lake Buena Vista, FL for the 2012 Independent Show.
The contest, titled "Wanna Go to the Independent Show", asks entrants to search the ZCorum Website for answers to five questions, which will qualify them for a drawing to win the trip. As part of the contest, ZCorum is introducing "Indie the Eyeball," who will play a key role in the final clue required to enter. There are also bonus entries that can be earned, increasing the odds of winning.
The winner of the drawing will receive airfare to Orlando, FL, plus four days and three nights accommodations at Disney's Yacht and Beach Club Resorts, where the conference will be held. Admission to the show and the educational sessions is also provided along with $100 spending money. The 2012 Independent Show will take place July 22nd through the 25th.
Arthur Skinner, ZCorum's Vice President of Sales and Business Development, will be in attendance. "We're excited about the contest, because it will prompt people to learn more about ZCorum's services and software as they search our Website for answers." ZCorum has been providing managed services to Internet providers since 1995, and is also the developer of TruVizion, a popular Web-based application for cable modem and CMTS diagnostics. "I fully expect someone to walk up to me and ask for a demo of TruVizion because they read about it on our Website as part of the contest."
The contest is running today through the end of the month. At that time one winner will be selected at random from the eligible entries. Those who are qualified can read the contest rules and enter here for a chance at getting to sunny Lake Buena Vista.
About ZCorum
ZCorum provides broadband Internet and communication solutions to telcos, cable companies, utilities, and municipalities, assisting in all facets of broadband implementation, integration, engineering and consulting, network monitoring and diagnostics. ZCorum also offers wholesale, private-labeled Internet services, including data and VoIP provisioning, email, Web hosting, and 24x7 support for end-users, enabling service providers to compete effectively in their local rural and suburban markets. ZCorum is headquartered in Alpharetta, GA. For more information, please visit http://www.ZCorum.com.