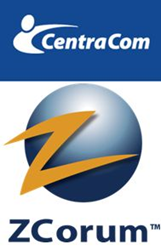 CentraCom will now be using Upstream Analyzer, which gives them remote access to view spectrum for all upstream ports, 24 x 7.
Alpharetta, GA (PRWEB) August 06, 2015
ZCorum, a leading provider of managed broadband services and diagnostics, announced today that CentraCom has signed an agreement for Upstream Analyzer, return path monitoring tool for DOCSIS networks.
Under the agreement, CentraCom now has access to ZCorum's fully featured software-based spectrum analyzer that displays the upstream spectrum directly from the CMTS in real time to aid in DOCSIS return-path troubleshooting. CentraCom already leverages other ZCorum services to reduce costs and increase efficiency in their operation, including TruVizion for modem and network diagnostics, and the PNM tool, PreEqualization Analyzer.
Upstream Analyzer displays the noise floor and the noise affecting specific cable modems. The tool is used to replace the costly head-end equipment that is normally used to monitor and troubleshoot upstream issues in the HFC plant. No additional headend equipment or cabling is needed.
"The success of our customers is important to us," said Neal Grillot, ZCorum's Vice President of Operations. "I'm pleased that CentraCom will now be using Upstream Analyzer, which gives them remote access to view spectrum for all upstream ports, 24 x 7."
According to Grillot, Upstream Analyzer is compatible with CISCO and Arris CMTS equipment, and because it is completely software-based, field techs can troubleshoot return path issues with nothing more than a PC, tablet or smartphone.
"One of the ways we gauge the quality and level of the service we're providing our customers is when they add a new service," said Julie Compann, ZCorum's President and CEO. "CentraCom was already using our patented TruVizion diagnostics software and PreEqualization Analyzer, and we're thankful they continue to place their confidence in us by expanding the services they get from ZCorum with Upstream Analyzer."
About ZCorum
ZCorum provides a suite of broadband diagnostics and managed services to cable companies, telephone companies, utilities, and municipalities. As broadband providers face greater complexity and competition, ZCorum continues to help operators increase operational efficiency and reduce costs, while improving subscriber experience. This is achieved through ZCorum's diagnostics solutions for DOCSIS, DSL and Fiber networks, plus managed services that include data and VoIP provisioning, residential and commercial VoIP service, branded email and Web hosting, along with 24x7 support for end-users. ZCorum is headquartered in Alpharetta, GA. For more information, please visit http://www.ZCorum.com.