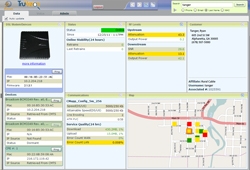 Telcos haven't had the tools to help them improve their operation and the reliability of their service.
Alpharetta, GA (PRWEB) January 16, 2012
ZCorum, a provider of managed broadband services to telephone and cable companies, says it will be doing its part to help level the playing field for telcos who have suffered from a lack of tools specifically designed to manage their DSL network. The company announced recently that it is in the midst of a development project that will leverage TruVizion, their popular diagnostics application for cable modem networks, with the TR-069 standard for management of DSL modems.
Scott Helms, ZCorum's Vice President of Technology, knows very well the challenges that telcos face. "We've been providing engineering and end-user support on the Internet side of the business for telephone companies since 1995—back when they just started offering dial-up service—and later helped them expand as they rolled out DSL. We started supporting cable providers a short time later, and it was immediately clear that cable would have an advantage over their telco counterparts when it came to management of their broadband service."
Helms noted that cable providers had the benefit of starting out with a very strong standards organization in CableLabs, which developed the DOCSIS standard for the provisioning and management of cable modems. "That standard made it much easier to develop tools to diagnose subscriber and network issues, because you knew your code would work with any network gear and customer premise equipment that was DOCSIS-compliant." Helms contrasted this with DSL, which has no single organization responsible for the development of standards. "It was a long time before there was consensus on a single standard to manage DSL modems. I think the reputation of DSL service has suffered because of that. Cable providers were able to be more efficient in their operation, could manage their networks better, and resolve issues faster. Over time this made people believe that DSL technology is inferior to cable when that's not the case. Telcos just haven't had the tools to help them improve their operation and the reliability of their service."
According to Helms, ZCorum is looking forward to changing all that. "We're now in a great position to narrow the gap that has plagued DSL providers as far as diagnostics and configuration management. We have a successful diagnostics application for cable modem networks to build upon, and the Broadband Forum's TR-069 standard is now strong enough for us to provide similar capabilities for DSL networks. Best of all, we'll be supporting both types of broadband networks in the same tool, which will be very interesting for providers who serve both DSL and Cable Modem subscribers."
ZCorum announced last week that they will be giving a preview of the new DSL diagnostics capabilities starting today at OPASTCO's Innovation Showcase, which is part of the rural telco association's annual winter convention.
###