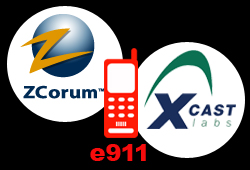 We're always looking for ways to meet the unique challenges faced by our customers.
Alpharetta, GA (PRWEB) June 26, 2012
ZCorum and XCast Labs, through a joint development effort, have successfully implemented a specialized e911 system for ERF Wireless that uses GPS coordinates to dispatch emergency personnel to a specific geographic location. ERF Wireless provides secure broadband services that include Digital Voice (VoIP) services to a wide range of business and residential clients. The ERF Energy Broadband Division services the Oil and Gas Industry, including oil drilling platforms and production wells, which do not have a traditional physical address. The lack of a physical address precluded the remote locations from having 911 service. ERF Wireless turned to their managed services provider ZCorum for a solution. ZCorum worked with their VoIP technology partner, XCast Labs to develop a plan to route emergency calls to the appropriate e911 call center by using GPS coordinates coupled with the closest physical address available.
"We're always looking for ways to meet the unique challenges faced by our customers," said Neal Grillot, Vice President of Operations at ZCorum. "We also didn't want the lack of a physical address to be a factor in whether or not emergency personnel can get to someone in need of help."
ZCorum worked with their partner XCast Labs on changes needed in their ordering systems to handle the GPS coordinates, and XCast Labs worked with the underlying 911 provider to ensure that the new system would work properly. "We have a great working relationship with ZCorum and talented developers, so I knew XCast Labs would be able to develop a solution," said Richard Tew, Vice President of Wholesale Markets at XCast Labs. "XCast Labs is always prepared to go the extra mile to ensure that all of our customers are safe and have access to 911 service."
# # #
About ZCorum
ZCorum provides broadband Internet and communication solutions to telcos, cable companies, utilities, and municipalities, assisting in all facets of broadband implementation, integration, engineering and consulting, network monitoring and broadband diagnostics. ZCorum also offers wholesale, private-labeled Internet services, including data and VoIP provisioning, email, Web hosting, and 24x7 support for end-users, enabling service providers to compete effectively in their local rural and suburban markets. ZCorum is headquartered in Alpharetta, GA. For more information, please visit http://www.ZCorum.com.
About XCast Labs
The XCast engineering team was the first to install a SIP Softswitch for a major carrier. For over a decade the XCast team has enriched this technology, making it more feature rich and improving the quality and cost-competitiveness of all Voice and Video over the Internet (VVoIP) products and services. Their development team pioneered the development of most of the VVoIP features that are now in the marketplace. The XCast- patented Direct RTP (Real-Time Protocol) technology for voice and video communications greatly increases call quality and reliability, while significantly reducing latency. As a result, XCast is proud to claim a unique and proprietary technology that offers customers a complete suite of fully integrated, reliable and scalable services. For more information, please visit http://www.xcastlabs.com.