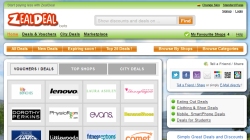 ZealDeal users do not have to spend time looking for deals; great deals come to them instead ...We think of our users as clever shoppers rather than bargain hunters.
London (PRWEB UK) 22 September 2011
ZealDeal Media, a UK startup announces the public beta launch of "ZealDeal - the money saving engine" with an innovative approach to consumer shopping by merging the deal promotions and eMarketplace into a single consolidated service. The new service, first of its kind, creates a smart, one-stop destination for consumers where they can take full advantage of all ongoing deal promotions and money saving opportunities without making any additional effort.
ZealDeal puts strong emphasis on fast changing technology driven busy life style of today's consumers. All the services are designed to deliver a time-saving, interest-based, auto-optimising experience personalised with each users' individual preferences. Rather than shoppers having to look for deals or promotions, ZealDeal brings the vast eMarketplace along with all the deal promotions, discounts, vouchers and similar incentives right to the shoppers.
"Simply speaking, ZealDeal is all about saving money and time in a smarter way" says its Head of Communications Arif H. Levandovsky. "At the moment, price promotion services are limited to the extent of producing one-way lists of promotions, discounts and voucher codes organised in various ways. We wanted to take the entire concept further by creating a new technology platform that combines the vast eMarketplace with all the deals, discounts and promotions from the marketplace shops and outlets" Levandovsky continues.
ZealDeal's consolidation technology analyses all emerging deals and blends them into the marketplace on the fly where they will automatically show up next to the marketplace outlets and products. "Actually, our users do not have to look for any deals and promotions; our technology takes care of it for them" says co-founder A. Anwar Hossain. "We prefer to think of our users as 'clever shoppers' rather than 'bargain hunters' as they do not really need to spend any time hunting or scouring anything" adds Hossain with a smile.
ZealDeal provides a set of additional tools and features allowing users better choice, control and personalised experience. The Favourite Shops tool automatically stores all deals, and discounts from their preferred shops in one place. Busy users can choose to have the deals from their favourite shops emailed to them with a time interval of their choice. The QR (quick response) code feature is designed to help smartphone users avoid unnecessary printing and copying. ZealDeal leads the way to QR code implementation as a feature in live open access web services aimed at mass audience.
About ZealDeal:
ZealDeal, the money saving engine, is a UK based startup offering a new kind of deal promotion service. First to combine deal promotions and eMarketplace into a single consolidated technology platform, ZealDeal eliminates the need for shoppers to look for deals, discounts, vouchers and other money saving opportunities as they go to the marketplace. Its innovative deal consolidation technology automatically integrates all available deal promotions into marketplace outlets and products so that users are always able to make best shopping decisions and keep more money in pocket. ZealDeal aspires to become the one-stop destination for all money and time conscious shoppers.
###