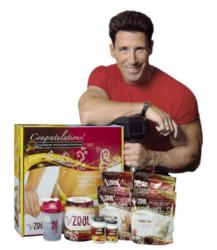 Feel better, look better and have a new Zeal for life!
Dallas, TX (PRWEB) November 17, 2012
Zeal For Life Taken before each meal these powerful ingredients will accelerate the metabolism to burn more calories, reduce any hunger and block the absorption of the carbohydrates that are consumed; all without the feeling of getting jittery as many weight loss products do. Slowing down the assimilation of carbohydrates can help avoid the cycle of hunger and act as an appetite suppressant.
Many people eat a lot of simple sugars and simple carbohydrates which go into the system quickly and go out quickly, going hungry again. Zeal Burn can help.
African Mango extract has become one of the world's most popular weight loss ingredients. The African mango comes from the Irvingia Gabonesis tree native to Africa. It was originally studied for its effect on cholesterol. After several controlled studies, it was discovered that not only did it help lower cholesterol levels, but in every study group given, the supplement had significant weight loss results - an average weight loss of 12.3 pounds in just 8 weeks!
Studies have shown that the extract increases fat burning through accelerating the metabolism naturally and helps the body burn stored fat. African Mango suppresses the appetite by feeling satisfied and full. Leptin is a hormone that tells the body it has had enough to eat. African Mango regulates your body's Leptin levels to stop over eating.
Clinical studies suggest that green tea boosts metabolism which causes the body to burn fat, even while sleeping. Studies have shown that green tea extract increased the fat burning process in humans by 35%-43%. EGCG can accelerate the fat burning process by increasing the metabolism and can lower the amount of fat that's stored and making it easier to burn fat.
For more information http://www.zeal-forlife.com