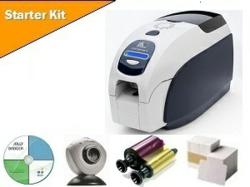 (PRWEB) May 03, 2011
Until now, organizations looking for powerful ID card printing capabilities had to look at higher-end models - and higher-end prices.
The ZXP Series 3 ID Card Printer, now available at IDCardGroup.com, is challenging those assumptions.
Combing the affordable pricing of Zebra's Value Class printers (Zebra P110i/P120i Series) with the powerful printing capabilities of the Zebra Performance Class Printers (Zebra P330i/P430i Series), the hybrid ZXP3 Card Printer offers a great price point with high performance features that work for many plastic card applications - from standard employee badges and student IDs to complicated access control cards and smart cards to high-security financial cards, including ATM cards.
The ZXP Series 3 Card Printer's power and versatility make it an ideal choice for organizations printing up to 5,000 cards per year – and wanting best-in-class performance and security at affordable prices.
Faster Print Speed and Better Image Quality
Building on the increased processing power of today's PCs, the ZXP Series 3 employs proprietary ZRaster host-based image processing technology to optimize image and print quality significantly - while increasing overall print speed throughput.
New, high-performance ribbons provide more efficient dye transfer and greater durability under high-speed printing conditions - ensuring the ZXP Series 3 card printer delivers as a printing powerhouse.
Enhanced Security with Full Encoding Capabilities
The ZXP Series 3 offers multiple encoding options, including ISO HiCo/LoCo magnetic strip encoding; contactless and contact encoding; contact station for third-party contact encoders; lockable enclosure/card feeder; CardSense™ single-card feed mode; and smart card encoding over USB and Ethernet.
Flexible Design Allows As-Needed Customization
With the Zebra ZXP Series 3 card printer, organizations can choose the full options suite at purchase or add optional components as needed. The ZXP3 comes with optional single- or dual-sided printing modules, smart card and magnetic stripe encoding kits, enclosure lock for the card hopper, and choice of connectivity (USB or Ethernet).
Highlighted as a Cisco EcoSystem Partner
According to Zebra Technologies, the company is highlighted as one of Cisco's newest Ecosystem partners in support of the Cisco Physical Access Control Solution. The Zebra ZXP Series printers allow CISCO Physical Access Manager users to quickly print and encode the highest quality photo ID cards.
The ID Card Group Advantage
As a Zebra Premier Partner, ID Card Group can offer all Zebra card printers and Genuine Zebra Supplies with the full technical support team at Zebra standing behind us - and we are able to do this at the lowest possible cost to our customers.
ID Card Group's Helpful How-to Resources
To help customers understand the myriad choices in ID card printers and printing options, ID Card Group has provided a 5-part how-to series on Choosing an ID Card Printer. The series reviews the top factors in the purchase decision, including card printing volume, desired appearance, and security options.
Customers can access these resources via the ID Card Group Blog or from the ID Card Printers section of the website.
About ID Card Group
ID Card Group offers a full line of ID card equipment, supplies, and accessories – from identification and access control products, to promotional products for loyalty or membership programs, to gift, payment, or phone cards and systems. Industries such as business, schools, government, military, law enforcement, healthcare, gaming, hospitality, trade shows/conventions, sports & entertainment and more choose ID Card Group for its selection, expert service, and low price guarantee. To learn more, call (877) 868-0012 or visit http://www.idcardgroup.com.