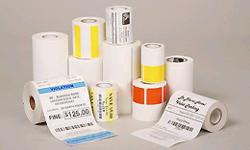 Whether a customer orders a Zebra or generic compatible paper, they can be guaranteed a high quality product at a competitive price.
Danvers, MA (PRWEB) May 18, 2011
POS Supply Solutions, Inc. (POS Supply) expands their paper roll product line to become a complete source for Zebra and generic compatible thermal receipt paper rolls.
While they may look similar, the chemical make-up of each receipt paper roll affects its lifespan. For this reason, POS Supply Solutions offers an extensive selection of receipt paper rolls for Zebra mobile, kiosk and desktop printers to fit virtually every printing application.
Selecting the right receipt paper rolls for your printing application is very important. Most documents look fine when they are first printed, but the true test is how they will hold up over their expected life span. When printed data is unreadable, problems with returns, service, warranties and compliance can arise.
Before choosing a paper, the following key considerations should be examined: potential exposure to extreme heat or moisture, durability requirements, and intended lifespan. Examining the following areas will ensure documents remain intact and readable during their useful life.
POS Supply's thermal receipt paper rolls are specifically engineered for Zebra printers to optimize performance. POS Supply also offers generic receipt paper rolls that provide equal quality without the name brand price. POS Supply generic receipt paper rolls are competitively priced and compatible with Zebra mobile, kiosk and desktop printers.
"Whether a customer orders a Zebra or generic compatible paper, they can be guaranteed a high quality product at a competitive price." said POS Supply's President Stephen Enfield.
Receipt paper rolls can also be pre-printed with your company logo, watermarks, return policies, warranties or terms and conditions. Another option is to preprint standard fields that can be valuable for mobile printing because it can extend battery life by reducing the printer workload. Custom printed paper roll orders start at as little as five cases.
About POS Supply Solutions
POS Supply Solutions provides point of sale and transaction supply solutions, serving a full spectrum of hospitality, retail, financial, gas station, medical, wireless and business transaction applications. Established in 1999, POS Supply Solutions' corporate facility is located in Danvers, MA with distribution warehouses strategically located across the United States. Over the past 11 years, POS Supply Solutions has worked with thousands of individuals and companies to ensure they receive the point of sale supplies needed for successful and efficient business operations.
Contact:
Alethea Copelas
Product Marketing Specialist
POS Supply Solutions
(978) 406-4230
acopelas(at)possupply(dot)com
http://www.possupply.com
###