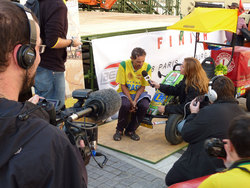 These aren't tears of sadness, but of joy. What a fantastic journey, full of success, but also misfortune. A journey I will never forget. I, and my loyal companion 'the BERG off-road pedal go-kart', received a warm welcome and the most fantastic response
Johannesburg (PRWEB) June 2, 2010
At 15.00 hrs he arrived at Melrose Arch, in the centre of Johannesburg, amidst loud applause. The journey on the off-road pedal go-kart made by BERG Toys took the now 52-year-old Jose Geraldo de Souza Castro, better known as 'Pedal Joe', through 22 European and African countries. On his journey, Pedal Joe conquered virtually impassable roads and was exposed to extreme circumstances with very high and low temperatures. Pedal Joe arrived with tears in his eyes; "These aren't tears of sadness, but of joy. What a fantastic journey, full of success, but also misfortune. A journey I will never forget. I, and my loyal companion 'the BERG off-road pedal go-kart', received a warm welcome and the most fantastic response in every country. I'll never forget this!"
The arrival
At Melrose Arch, a whole army of fans welcomed Pedal Joe as a true champion, showering him in champagne and flowers. Yet even the last stage through Johannesburg did not pass unnoticed. The South Africans made their presence known, honking and yelling loudly to that man on the go-kart, making his way through the streets of Johannesburg. The pedaling man on the go-kart also attracted the attention of many children. Stijn Driever, Marketing Director at BERG Toys: "The arrival of Pedal Joe was magnificent, a performance he should be proud of. But we're also proud, his BERG go-kart and trailer took him where we wanted: from Paris to Johannesburg regardless of the circumstances. To us, this is the ultimate user test. The BERG Toys go-kart and trailer passed this test with flying colours."
Charity
With this go-kart journey, the 52-year-old Brazilian José Geraldo de Souza Castro, who left Paris on 10 May 2008 and arrived in Johannesburg on 1 June 2010, more than two years and almost 17,000 kilometres later, generated worldwide attention for the Sight First 2 campaign of the International Lions Club. This is a project in the fight against child blindness in developing countries.
BERG Toys
The Dutch company BERG Toys designs, manufactures and sells outdoor toys such as go-karts, trampolines and other ride-on toys. The company's most iconic product is the world-famous BERG Toys go-kart. Company founder Henk van den Berg was fifteen when he made his first go-kart. He is now 40 and together with BERG Toys is the global market leader in the field of go-karts. With more than 130 members of staff in seven countries, BERG guarantees playing fun in more than 50 countries. Most of the innovative and cool products are manufactured in the BERG Toys factory in the Netherlands, according to strict environmental safety and quality standards.
###