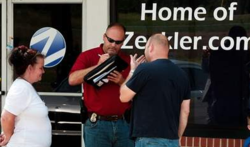 All hope is not lost for the over one million Zeek Rewards affiliates and customers.

Chicago, IL (PRWEB) August 19, 2012
Zeek Rewards, Zeekler.com and Rex Venture Group has been shut down by the SEC according to their recent press release.
According to the SEC, The closing of Lexington, NC based Rex Venture Group and Zeek Rewards has left more than one million internet customers nationwide and overseas without a home business and online penny auction service. All Zeekler websites have been taken down and now simply have a notice that reads "Zeek Rewards is currently unavailable. More information will be available shortly on this website."
The lack of communication has worried many affiliates and that is why Ryan of TheMayDayReport.com launched his leading independent Zeek News and Updates website. Anyone looking to stay up-to-date all Rex Venture Group, Zeekler.com and Zeek Rewards information and news should visit the news website here.
According to SEC.gov "Most of ZeekRewards' total revenues and the "net profits" paid to investors have been comprised of funds received from new investors in classic Ponzi scheme fashion."
The SEC has also said "The obligations to investors drastically exceed the company's cash on hand, which is why we need to step in quickly, salvage whatever funds remain and ensure an orderly and fair payout to investors," said Stephen Cohen, an Associate Director in the SEC's Division of Enforcement. "ZeekRewards misused the power of the Internet and lured investors by making them believe they were getting an opportunity to cash in on the next big thing. In reality, their cash was just going to the earlier investor."
Coming from TheMayDayReport.com owner, "with the massive growth of Zeek Rewards for many it seemed as if the company was doing very well. However, the fact that the company was growing so well only allowed it to continue to stay open and pay existing affiliates".
According to the SEC's complaint, "ZeekRewards has paid out nearly $375 million to investors to date and holds approximately $225 million in investor funds in 15 foreign and domestic financial institutions. Those funds will be frozen under the emergency asset freeze granted by the court at the SEC's request. Meanwhile, Burks has personally siphoned several million dollars of investors' funds while operating Rex Venture and ZeekRewards, and he distributed at least $1 million to family members. Burks has agreed to relinquish his interest in the company and its assets plus pay a $4 million penalty. Additionally, the court has appointed a receiver to collect, marshal, manage and distribute remaining assets for return to harmed investors."
This gives the Zeek Rewards affiliates some hope that the court appointed receiver will be able to distribute the remaining assets to harmed Zeek Rewards affiliates in a timely manner.
To stay up-to-date on all Zeek Rewards news and updates from the leading independent Zeek news source visit the website here.
TheMayDayReport.com states this is very unfortunate for the over one million people involved it provides us all a lesson that is needed to be learned. This lesson should remind of all the other Ponzi schemes people have seen come up in the past. It also forces us to remember that building a business even online takes hard work and effort, not too mention a real product or service that provides value to the end user.
The MayDayReport.com states it is also important for Zeek Rewards affiliates to understand that there are real ways to make money using the internet. Not only are there real ways, but these businesses that one can build online can have substantial value and truly be a long-term asset for the business owner. It may seem difficult for one to now find something that they can support and believe in.
That is why Ryan of TheMayDayReport.com encourages Zeek Rewards affiliates to learn and develop the skills of marketing. That way one has the skills and knowledge to market online they will always be able to run a business on the internet.
For those that are looking for something that can help them replace the income they were receiving from Zeek Rewards should visit this website here.
One will learn a proven and effective system to building an online business. By learning this type of system one can build something that is sustainable and profitable for years and years to come.
Visit the official site here for all the details.
All hope is not lost for the Zeek Rewards affiliates. There is still much opportunity in the online world and there are still real people out there that want to truly help others improve the quality of their life.
All Zeek affiliates should still join the leading independent news and updates website for Zeek Affiliates to stay up-to-date on everything with Zeek.
TheMayDayReport.com owner is an affiliate of Zeek Rewards as well as the Empower Network. If one has questions please contact us by email, phone or at http://themaydayreport.com.