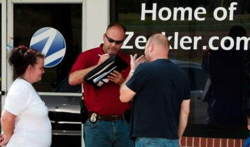 San Diego, CA (PRWEB) August 18, 2012
Zeek Rewards, the penny auction site Zeekler.com and the Lexington-based business that operates them both Rex Venture Group have been undergoing investigation according to the top Zeek Rewards news website, TheMayDayReport.com.
According to The-Dispatch.com "currently the U.S. Securities and Exchange Commission has filed fraud charges and an emergency asset freeze against Rex Venture Group".
In a press release issued on August 17th, 2012 the SEC has called the company a $600 million Ponzi scheme. They also stated that the company was on the verge of collapse, stating that the company revenues were soon to dip below its cash payouts to its customers.
The SEC has also stated that Paul Burks, siphoned off millions of investor funds to family members.
"Rex Venture Group has more than one million users from all around the world. As of Thursday August 16th Zeek Rewards, Zeekler.com and Rex Venture Group unexpectedly closed their doors. With the sudden close and the website going down many of its online users have been left confused and concerned with what is going on" says The-Dispatch.com.
The NC Attorney General's office confirmed that it had received dozens of complaints and inquiries about Zeek Rewards, Zeekler.com and Rex Venture Group.
For those that are looking for more news and updates on Zeek Rewards should visit this website here.
It's important for people to understand the the North Carolina Attorney General has confirmed its demands for the Civil Investigation Demand requesting that Zeek Rewards provide specific documents to the state. They also stated that they have not shut down Zeek Rewards at the moment.
What that means is Zeek Rewards has voluntarily closed their doors for the time being. More information and news should be available soon. In the meantime one can stay up-to-date by visiting the site below.
To stay up-to-date about Zeek Rewards and Rex Venture Group join the notification list here.