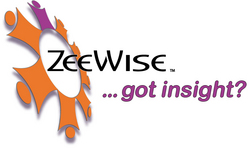 The use of Item 19 FPRs is a rapidly growing trend in the franchise industry with franchise experts estimating growth in adoption from 25 to 50% of established franchisors in the past 3 years, said Jerry Bell, CEO of ZeeWise
Atlanta, GA (PRWEB) February 14, 2011
ZeeWise™ Inc. (http://www.zeewise.com), the leading provider of Franchise Business Intelligence (FBI) software announced today the release of their new "Item 19 Enabler™" software at the 51st annual International Franchise Association (IFA) Convention in Las Vegas, Nevada. For the first time in franchising, the new ZeeWise software enables franchisors to automate the process of collecting, consolidating and reporting for Item 19 Financial Performance Representations (FPRs) in Franchise Disclosure Documents (FDDs).
ZeeWise's "Item 19 Enabler"™ is a web-based software tool designed for use with financial accounting software most commonly used by franchisees including Intuit Inc.'s QuickBooks®, Micros™ Point of Sale (POS) and other custom Line of Business (LOB) business software to provide franchisors with insight into their franchisees, or "Zees", financial and operational performance.
"The use of Item 19 FPRs is a rapidly growing trend in the franchise industry with franchise experts estimating growth in adoption from 25 to 50% of established franchisors in the past 3 years. Item 19s showcase the sophisticated support systems that a concept utilizes to manage their business and make their FPR claims which inform their future "Zee" partners. Many potential franchise prospects consider it a "red flag" if a franchisor does not provide it!", said Jerry Bell, Chief Executive Officer of ZeeWise Inc.
Franchise Business Development consultants agree. "Prospects are looking for hard numbers to gain deeper insight into the concept. The willingness of a franchisor to share this information provides instant credibility! It also dramatically expedites the decision-making process for the prospect", says Bachir Mihoubi, President & CEO of FranCounsel Group LLC, a global franchise development consultancy.
Before ZeeWise's new solution arrived, "Item 19"s presented a particularly difficult choice for franchisors as there are legal risks if the Item 19 claims are un-substantiated. Franchisors hesitated to make them because FPRs require a reasonable basis based on facts or details, that are revealed with assumptions and documentation with back-up data.
However, ZeeWise's new "Item 19 Enabler™" software helps solve the requirement for evidence by automatically collecting on each individual franchisees financial results, consolidating that data, and then providing the ability to report on it in multiple relevant "peer groups" identified by the franchisor. The fully automated system provides full data visibility that is timely, reliable and accurate, yielding business insight for all parties.
About ZeeWise Inc.
Got Insight?™ - ZeeWise is the leading provider of Franchise Business Intelligence (FBI) software to the franchising community by providing collection, consolidation and reporting on sales, operational and financial data at thousands of remote franchisee locations. Franchise system intelligence is delivered to franchisors and franchisees via a low cost, graphical KPI and scorecard reporting system utilizing a SaaS software delivery model. ZeeWise offers business owners and managers unique insight to improve profits using data collected from multiple sources including Intuit QuickBooks® , Point of Sale (POS) and other leading Line of Business (LOB) software products in use today by the franchising world. In addition, ZeeWise provides flexible Web form tools to automate franchisee royalty reporting. To learn more, contact Jerry Bell, CEO, at 678-252-6840 and sales@zeewise.com or http://www.zeewise.com for more information on how to gain insight into your franchise system.
Intuit, the Intuit logo, and QuickBooks, among others, are registered trademarks and/or registered service marks of Intuit Inc. in the United States and other countries. Micros is a registered trademark of MICROS Systems, Inc. All other parties' trademarks or service marks are the property of their respective owners and should be treated as such.
###