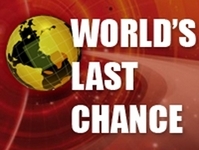 and simultaneously mixing these with poorly fabricated arguments in an effort to nullify Christianity.
(PRWEB) March 27, 2008
Nondenominational online ministry World's Last Chance recently released part two of the video series "Zeitgeist | The Response." This eight-minute video responds to critical assertions and attacks on Christianity made by the movie "Zeitgeist" and provides viewers with factual evidence supporting the Bible.
The "Zeitgeist" movie compares the Bible to other pagan religions and draws parallels between each, implying that the Bible is a fundamentally plagiarized work. Dahlia Doss of World's Last Chance believes that the true purpose of the "Zeitgeist" movie is to undermine the word of God.
"It is devastating how effectively "Zeitgeist" has been able to shovel its rhetoric into the minds of millions of viewers by exposing the truth on major world conspiracies like 9/11 and the relation of media to government agendas" says Doss, "and simultaneously mixing these with poorly fabricated arguments in an effort to nullify Christianity."
By objectively deconstructing each argument in the "Zeitgeist" movie, World's Last Chance's latest video response explains that it is impossible for the Bible to plagiarize the Great Years of Astrology and the Twelve Ages of the Zodiac. Part two of the response series also exposes the illogical parallels between the twelve constellations and the Bible.
Doss says that the "Zeitgeist" movie also promotes the fatal error that unity among humans is the key to ending the exploitation of humanity.
"On the contrary, it is Satan's master plan to drive world leaders to unite in a New World Order," she says. "That makes it easier for him to control and manipulate the world; so that he can enforce universal laws which will exalt his counterfeit Sabbath."
Akin to similar informative videos "America: Freedom to Fascism" and "Loose Change", "Zeitgeist | The Response, Part 1" and "Zeitgeist | The Response, Part 2" bring to light the truth behind the biblical prophecy.
About World's Last Chance
World's Last Chance is an online Christian ministry that produces the most viewed, controversial and translated end-time Bible prophetic videos on the web. The website upholds sharp and provoking teachings from the Bible, which have yet to be disproven.
The ministry is operated by non-denominational volunteers who share the belief that the second coming of Christ is only a few years away and are dedicated to sharing God's last warning of mercy with the world before His coming.
For more information on the World's Last Chance ministry, please visit http://www.worldslastchance.com
Contact:
Dahlia Doss
World's Last Chance
0020122465878
###