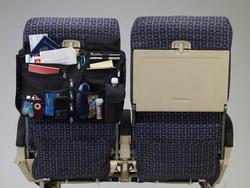 Our goal was to come up with effective resolutions to the emerging organization and comfort challenges that travelers like us are facing today.
Phoenix, AZ (PRWEB) August 20, 2008
In an era when air travel services are on the decline and fares and fees are reaching new heights, Americans are learning to upgrade themselves - to ZEN CLASS™ that is. A new and novel line of comfort and organization accessories designed to enhance the overall travel experience, ZEN CLASS has officially taken flight.
ZEN CLASS is brought to us with compassion by Manufacturing and Marketing industry specialists Jesse Travis (CEO) and Brent Hollowell (President). Once frequent flyers disenchanted by disappearing legroom, pillows, meals, movies and other in-flight amenities, "We did what entrepreneurs do . . . we took matters into our own hands," explains Hollowell. "Now we've gotten back to enjoying the journey." Businessmen doubling as dads, the ZEN CLASS Principals are dedicated to developing versatile products that provide storage, accessibility and comfort solutions to corporate, pleasure and family travelers alike.
First in this long line of innovative and affordable accessories is the ZEN CLASS NIRVANA ORGANIZER. Retailing at $39.99, this attractive patent-pending tote mounts cleverly onto any plane or train seat-back tray table - creating an open and orderly passenger space for either work or play. Offering multiple mesh and zippered storage compartments, a cup holder, key chain clip and more, every essential is available within arm's reach. From newspapers to DVD players, passports to pacifiers the NIRVANA ORGANIZER holds it all, and then folds closed into a casual carry-on worn easily over the shoulder or held by its handles. Able to eradicate space and accessibility issues of all sorts, the organizer works equally as well with other such conveyances as automobiles, trains or infant strollers. To view a video of the NIRVANA ORGANIZER in use, click here and select the "watch in high quality" option.
In the works at ZEN CLASS are inventive head and neck support cushions and additional in-flight bedding amenities, a DVD viewing station, infant organizer and auxiliary carry-on storage and comfort solutions. "We found ourselves boarding the plane with more electronic devices and various other items than ever before," says Travis. "Our goal was to come up with effective resolutions to the emerging organization and comfort challenges that travelers like us are facing today."
The ZEN CLASS collection is available in easy-to-wear hues and is constructed in an array of organic and synthetic fabrications. Designed and tested in the US and sourced primarily in Asia, the "best in class", ZEN CLASS line will be available for sale this fall with products ranging from $40.00 to $90.00. ZEN CLASS innovations are purchasable at http://www.zenclasstravel.com, http://www.ebags.com, on QVC and http://www.QVC.com as well as at select department, airport and specialty retailers/e-tailers nationwide. For additional information contact Jodi Lin Wiener at Jodi Lin PR: 212-604-9717.
# # #