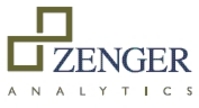 We decided early in the development process of The Lab™ that assistance from Zenger Analytics would significantly improve the value of the solution
Dover, MA (PRWEB) February 11, 2009
Zenger Analytics, an innovative consulting firm specializing in health and productivity informatics, announces that it played a key role in the design of the data presentation used in HighRoads' award-winning The Lab™ benefits benchmarking service. Human Resources Executive Magazine identified TheLab™ as one of the winners of the ''Top HR Products of the Year'' award in 2008. The award was based on the Lab's accurate and immediate benchmarking information, HR benefits plan customization, benefits terminology glossary, and attractive and easy to interpret visuals.
"We decided early in the development process of The Lab™ that assistance from Zenger Analytics would significantly improve the value of the solution," says Lori Dustin, Chief Marketing Officer at HighRoads. ''Zenger provided invaluable insights into how to organize and present our sophisticated benefit plan design benchmark information clearly and succinctly to meet our clients' needs.''
The Lab™ is an innovative real-time benefit benchmarking service designed to give employers immediate competitive insights into their benefits plans. Zenger Analytics' design work on The Lab™ focused on communicating very detailed information in easy-to-read, executive-level reports. 'This solution is unique in that it is based on an extremely robust and rapidly expanding set of benefit plan designs. The underlying benefit plan data allows the user to research or compare their plan against very customized benchmarks specific to industry, geography, and plan type,' says Zenger
''We are very pleased that HighRoads is receiving well-deserved recognition for The Lab™ and pleased that we were selected to assist in its data presentation design,'' says Blake Zenger, president and CEO of Zenger Analytics, Inc.
About Zenger Analytics, Inc.
Zenger Analytics, Inc. specializes in health and productivity informatics, developing solutions that leverage clients' existing claims data and data structures to measure, monitor, and drive improvements in employee benefit plan performance. Zenger Analytics was founded by Blake R Zenger, a national expert in the area of health informatics, data warehousing and decision support systems, benefit plan performance metrics, and health plan performance. Prior to forming Zenger Analytics, Blake consulted to companies including IBM, Boeing, American Express, Motorola, Sprint, Staples, Medco, Corning, and Blue Cross Blue Shield of Massachusetts. Zenger serves organizations that provide health and employee productivity data externally to their Accounts to both demonstrate their value or to internally allow for data-driven management decisions. Zenger Analytics is privately held and is based in Dover, Massachusetts. For more information, visit http://www.zengeranalytics.com.
Subscribe to the Communicating with Health Data Blog
This blog is about health informatics, and the power of data. Blake Zenger will focus on "communicating" with health care industry data: organizing, enhancing, presenting, and delivering complex health (and productivity) data to help employers and--ultimately--consumers make better decisions about employee benefits.
###