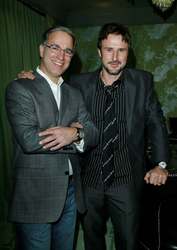 We are always pleased when exceptional and creative members of the arts show such enthusiasm and appreciation for our products. We are proud to present David Arquette with a Zenith timepiece
Hollywood, CA (PRWEB) February 8, 2008
Zenith Swiss Watch Manufacture and Men's Vogue partnered to celebrate the much anticipated opening of Citrus at Social Hollywood with guest of honor David Arquette this past week. The intimate, invitation-only affair was attended by an eclectic group including musician Ben Harper and actor Thomas Jane. Guests were given a preview of the brand's newest designs fresh from worldwide Chief Executive Officer and Chief Designer, Thierry Nataf's Zenith design studio. These included the Defy Xtreme Open Stealth and the Grande Class Multicity, which the attendees were able to view while sampling the innovative menu of legendary chef Michael Richard.
During this special evening, Paul Ziff, President, Zenith North America presented a Defy Classic Open watch to David Arquette. An endearing actor and accomplished producer and writer, Mr. Arquette has established himself as a versatile figure in both television and film.
"We are always pleased when exceptional and creative members of the arts show such enthusiasm and appreciation for our products. We are proud to present David Arquette with a Zenith timepiece," stated Paul Ziff.
For more details about Zenith, please contact Tamara Grove at (973) 467-1890 or e-mail tamara.grove@lvmhwatchjewelry.com.
Attached images:
1) Paul Ziff, President, Zenith North America and David Arquette
2) Defy Classic Open watch
# # #