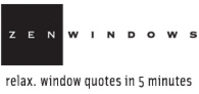 We work hard to offer the best products and prices for our clients. We are all about respect, simplicity, no-pressure window sales and high value.
Columbus, OH (PRWEB) April 29, 2010
Zen Windows, a respected Ohio company proudly provides its customers with quality, energy-efficient windows that meet and exceed the federal government's current ENERGY STAR guidelines. The ENERGY STAR designation simplifies consumer-purchasing decisions by identifying windows that comply with the strict criteria set forth by the U.S. Department of Energy and provides homeowners with a 2010 federal tax credit. True to its name, Zen Windows promises an easy, hassle-free buying experience so they only sell windows that are ENERGY STAR tax credit compliant.
For homeowners who have been considering the purchase of energy-efficient windows, this is a great opportunity. If purchased before December 31, 2010, replacement windows will not only reduce the home's energy bills, but also provide the homeowner with a tax credit equal to 30 percent of the product costs, installation not included. This federal stimulus package can make available up to $1,500 in cost saving tax credits and Zen Windows can make qualification easy.
As one of the fastest growing firms in the U.S., Zen Windows' products save energy, lower utility bills and protect the environment. Dan Wolt, president and founder of Zen Windows, will gladly help advise customers on the best choices for cost effective and tax-eligible windows for their homes.
Doing business since 1997, Wolt is committed to providing durable, high-performance windows that bring beauty and value to his customers' lives and living spaces. "We work hard to offer the best products and prices for our clients. Like our name indicates, we value the Zen philosophy of respect, simplicity and straight answers within a "no-pressure" environment."
This is the ideal time of year to begin looking for replacement windows. The mild springtime weather makes this a perfect time to install beautiful, energy-efficient windows from Zen Windows.
###