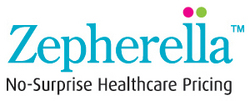 Zepherella created this enhancement so both doctor and patient alike can have real time access to prices and discounts for specific services
Chapel Hill, N.C. (PRWEB) July 31, 2009
Zepherella™, the creator of No-Surprise Healthcare Pricing™, has begun piloting an iPhone™ compatible application to supplement zepherella.com. Building on the belief that healthcare pricing should be upfront and available to patients, Zepherella gives physicians a quick and convenient way to inform their patients about the cost of their medical care from inside the exam room.
Without zepherella.com, most self-pay patients have to wait for a bill to arrive in order to know the cost of their medical care. With Zepherella, healthcare pricing is no longer a mystery. Zepherella has made healthcare pricing straightforward and within reach for patients via its free and easy-to-use online service. The iPhone application makes No Surprise Healthcare Pricing portable. "Zepherella created this enhancement so both doctor and patient alike can have real time access to prices and discounts for specific services," said Tom Furr, Zepherella's CEO. "This eliminates the guessing game for doctors and their patients when the need for lab tests or other services surface during an office visit."
"During a medical exam, I often discuss potential diagnostic tests with my patients, yet neither of us knows the cost while we're in the exam room," said Dr. Remy Coeytaux, MD, PhD., Chapel Hill Integrative Medicine Associates' Medical Director. "Zepherella's iPhone application changes that. Now patients and physicians can work together to make decisions with all the medical and financial aspects covered. Plus, staying in the exam room keeps the focus on patient care."
Zepherella is conducting a pilot release of its service in North Carolina prior to an anticipated regional rollout later this year. In addition, Zepherella is working on a solution for insured patients, particularly those with high deductible health care plans, to shop for competitively priced, high quality medical care.
About Zepherella, Inc
Zepherella offers a unique "no surprise" healthcare pricing solution that gives both physicians and their patients who pay their own way an easy, efficient and stress-free way to complete payment transactions online. The service lets doctors focus on matters of health and well-being instead of administrative hassles. Founded in 2008 by Tom Furr, an executive with nearly 20 years experience creating, building and managing Web-based-businesses, and Mark Coyne, an executive with over 15 years experience in the U.S. healthcare industry, Zepherella has its headquarters in Chapel Hill, North Carolina. For more information, please visit http://www.zepherella.com or call 888-730-9374 ext. 704.
Zepherella Inc. has applied Zepherella and No-Surprise Healthcare Pricing for trademarks and/or registered service marks in the United States. Other parties' trademarks or service marks are the property of their respective owners and should be treated as such.
No Surprise Healthcare Pricing
Contact:
Tom Furr, CEO, Zepherella, Inc
888-730-Zeph (9374) ext. 702
# # #