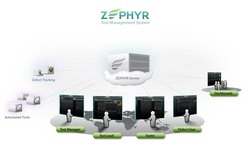 We are hearing from customers who need to manage testing more effectively without bringing on expensive, complex test management solutions
Sunnyvale, CA (PRWEB) October 27, 2008
Zephyr, provider of the world's most flexible test management platform enabling organizations to manage their test departments more efficiently, today announced the availability of Zephyr 2.0, which adds functionality customers have requested, leveraging users' existing tool investments by seamlessly integrating with the popular issue-tracking system JIRA and providing direct interoperability with a wide variety of automation tools. Users can also purchase Zephyr 2.0 as a hosted software as a service (SaaS) solution in the Amazon Cloud in addition to the traditional on-premise model.
The addition of these features extends Zephyr's flexibility as the only test management solution that provides end-to-end management of quality cycles, including department management, resource management, test case management, test execution, defect management, document management and all aspects of reporting and metrics in real time.
In developing Zephyr 2.0, the company listened to what its customers wanted.
"We are hearing from customers who need to manage testing more effectively without bringing on expensive, complex test management solutions," said Samir Shah, CEO and founder of Zephyr. "They demand a solution that's easy to buy, implement and use, and provides real productivity gains."
The latest version continues to solve the problems that accompany closed, proprietary test management systems that fail to compatibly integrate with other defect tracking and test automation tools. Zephyr 2.0 features two-way integration with the popular defect tracking systems JIRA and Bugzilla via Web services, and it allows interoperability with commercial, open-source or home-grown test automation tools. Furthermore, Zephyr 2.0 provides a hosted option for rapid deployment and all other benefits of SaaS.
Zephyr allows testing managers to communicate effectively with senior management while focusing the testing department's resources on the work to be done -- testing. A "single pane of glass" approach ensures that full metrics provide visibility and accountability across the entire development organization, as well as that testers have access to all the information and tools they need. The solution eliminates the manual updating and reporting process using spreadsheets and e-mail.
As companies across industry segments express their concerns about uncertain business conditions by taking steps to reduce operational costs, outsourcing is becoming a necessity. Although the immediate driver is cost reduction, outsourcing can create other challenges, including visibility, effectively operating across time zones, and accountability. Thus, the test outsourcing market is demanding better tools to manage and deliver test services to customers.
The Zephyr platform provides a highly effective way for offshore testing service companies and system integrators to efficiently manage globally dispersed teams and provide clients with real-time visibility into their quality cycles. For this reason, Zephyr is capturing the interest and attention of CIOs and CTOs worldwide.
"In fact, we've designed a version of Zephyr specifically for this market," Shah said. "With Zephyr, they can bring more than testers to the table. They can bring their reusable test artifacts -- essentially their intellectual property -- in a nicely packaged, white-labeled services delivery tool."
Zephyr currently has more than 300 global installations and receives an average of 30 enterprise trial sign-ups a week.
Zephyr 2.0 is immediately available to customers as a hosted SaaS solution or is downloadable for on-premise use. Regardless of the type of delivery, Zephyr offers its customers flexible, affordable subscription-based pricing.
"As a company, Zephyr understands testing," Shah said. "We have spent the last two years working to innovatively solve the problems that plagued us when we ran test departments. We wanted Zephyr, but it wasn't available, so we created it."
About Zephyr
Zephyr, based in Sunnyvale, Calif., provides solutions to significantly improve the test management experience of testing teams globally. The company is focused on empowering the product creation processes of engineering and IT organizations through the development of intuitive, affordable software that contributes to augmented productivity, superior manageability and enhanced collaboration. Visit Zephyr at http://www.getzephyr.com.
###