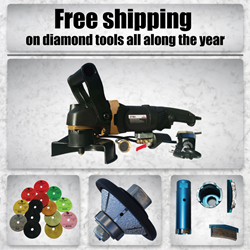 ShopNSaveMart.Com offers Zero Cost Shipping within USA on Diamond Tools throughout year, No Minimum Purchase Needed.
Santa Clara, CA (PRWEB) January 10, 2017
Trusted supplier of concrete stone granite cutting grinding polishing diamond tools, Shop N Save Diamond Tools is pleased to confirm their participation in the online shopping event for No Cost Shipping in association with the event organizer freeshippingday.com. As part of this one day event that took place on December 16, Shop N Save Diamond Tools offered zero cost shipping all over the country on all their products, regardless of the order quantity. All products ordered on this day shipped for zero shipping fee with guaranteed delivery within the Christmas day.
A top rated global supplier of industrial diamond tools, Shop N Save Diamond Tools is the authorized retailer for Stadea Tools. The organization's solution of fast order delivery is popular among the stone, granite and concrete manufacturers and fabricators. Some of their popular products include granite hole saw, diamond floor pads, concrete grinding wheel. Shop N Save Diamond Tools has emerged as a preferred online shopping destination in the diamond tool industry because of their competitive pricing, user friendly online portal, and focus on customer service.
It is a relatively new concept that did not exist before the U.S. recession hit in 2007. However, less than ten years down the line, it is now considered to be an important shopping event. Thousands of merchants participate in this event, offering zero cost shipping with delivery by Christmas Eve.
ShopNSaveMart.com has been a regular participant in this event. The company offers no cost shipping and qualified zero cost overnight shipping within USA throughout the year. On 16th December, they offered upto 70% discount on many of their products including concrete grinding wheel, diamond polishing pads, and diamond floor pads.
It is estimated 93% of shoppers plan to take advantage of zero cost shipping this season. By participating in this event, Shop N Save Diuamond Tools is looking to encourage their customers shop late into the season, and boost their sales volume for the final quarter of the year. The company's customers will also enjoyed other benefits by shopping at Shop N Save Diamond Tools on the occasion of the event. These benefits included

Zero cost shipping on all orders
Guaranteed delivery by Christmas Day for all orders placed on the day
Zero shipping cost on all returns with applicable exclusions
Customers can place order online and over phone, and pick up the orders the same day or choose for zero cost shipping delivery
Deep discount on variety of professional diamond tools for stone polishing, cutting, grinding, honing, restoration and concrete countertop and floor polishing and restoration
Discussing the company's deep involvement with the event, the President of Shop N Save Diamond Tools Sumit K Suman said, "ShopNSaveMart.com participates every year in the event, irrespective to the fact the zero cost shipping offer is available thought out the year. Throughout the year within USA, qualified orders also ship over night at zero cost. We ensure all orders are packed with professional care and delivered by Christmas Eve."
About Shop N Save Mart:
Shop N Save Mart is a renowned industrial diamond tools supply company and the authorized retailer for Stadea tools. A custom B2B service provider, the organization provides a holistic solution for stone polishing, cutting, grinding, restoration, and diamond tools procurement to stone, granite and concrete manufacturers, fabricators. Their professional quality tools offering, competitive pricing, exemplary focus on customer service, B2B friendly online portal, zero cost shipping, qualified zero cost overnight shipping, fast shipping, delayed time zone shipping location, cost-effective deals, discounts , and other bargains makes them one of the best partners for all diamond tool related needs and supply.