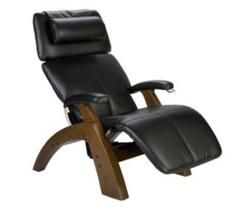 If you've wondered how athletes can push their minds and bodies to such amazing achievements, you may want to learn about BodyTalk
Los Gatos, CA (PRWEB) August 08, 2012
Since 2010, Los Gatos' We've Got Your Back has helped people enjoy relief from back pain and neck pain. Everyone's favorite home care solution is the Human Touch Zero Gravity Chair and this month's promotions make it possible to bring home one of the best Perfect Chairs in genuine premium leather. The Los Gatos back store also helps provide back pain relief through ergonomic seating and educational events, such as the BodyTalk event that the Los Gatos store is hosting on Aug. 18 and Aug. 22.
BodyTalk is a revolutionary healthcare system that utilizes state-of-the-art energy medicine to optimize the body's internal communications. This, in turn, helps the body operate more efficiently and respond effectively to injury and illness. A safe, non-invasive form of care that relies on the body's own healing capabilities, BodyTalk is an amazing mix of the old and the new, with proven results and worldwide growth.
"If you've wondered how athletes can push their minds and bodies to such amazing achievements, you may want to learn about BodyTalk," Rita Marcojohn of We've Got Your Back said.
Join Ted Kastellic, Ph.D., at We've Got Your Back for BodyTalk on two dates: Aug. 18, from 9 a.m. to 10 a.m., and Aug. 22 at 6:30 p.m.
We've Got Your Back is also hosting a session on Circular Strength Training on Aug. 29 at 6:30 p.m. Circular Strength Training is a system that develops the body's ability for the full range of healthy human movement. It decompresses joints while training rotation of the body through space, allowing for the development of natural flexibility and pain-free, graceful movement. The program also builds significant strength by training the muscles through these rotational ranges in addition to more conventional pressing and pulling movements, burning calories, increasing agility, and building a leaner, stronger physique.
Join trainer Eric Douglass at We've Got Your Back for an introductory session on Circular Strength Training.
A RSVP is required for all events.
For more information about the events or any of We've Got Your Back's products or services, call 408-395-1122, view the Los Gatos tension relief store on the Web at http://www.back2active-bayarea.com or visit 114 Royce St. in Los Gatos
About We've Got Your Back
We've Got Your Back is a women-owned business that delivers the best-in-class products and services in ergonomic accessories and seating, fitness gear and comfort solutions. Its goal is to provide education, information and products that ultimately eliminate the root cause of back and neck pain. The showroom in Los Gatos was designed to serve the community with educational programs, fitness training and product demonstrations.
We've Got Your Back offers its products and solutions to support the home office, telecommuter or the office workstation with training, chair fittings, ergonomic assessments and lifestyle support programs. Products include zero gravity chairs, neck pillows, massage chairs, sit-to-stand desks, doctor-recommended pillows and more.