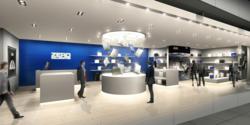 The Zero Halliburton brand resonates with consumers who understand and appreciate quality and strength.
New York, NY (PRWEB) June 18, 2013
Zero Halliburton, the iconic luggage manufacturer providing satisfaction and protection for customers for over 75 years announces the opening of their flagship store located at 300 Madison Avenue between 41st and 42nd Street which is situated near Grand Central Terminal's bustling travel hub. The brand new store will serve as a stage for the brand's global re-launch and subsequent new collections. Celebrating their 75th anniversary as a leader in luxury luggage for discerning leisure travelers and business road warriors, Zero Halliburton stands for quality, style and durability which is showcased in each piece of its collection.
Zero Halliburton New York Flagship will feature over 1,600 square feet of space, boasting an array of suitcases, briefcases, as well as travel and lifestyle accessories.
This summer, the company will launch its new signature collections in bold colors and styles, constructed with the highest quality materials including aluminum, nylon and polycarbonate. Redefining the meaning of durability and elegance, Zero Halliburton's state-of-the-art design surpasses its competitors by offering high levels of impact resistance, craftsmanship and protection.
"The Zero Halliburton brand resonates with consumers who understand and appreciate quality and strength," said Atsushi Osaki, President of Zero Halliburton. "We are very excited to open our global flagship store on New York City's Madison Avenue, one of the most prestigious shopping avenues in the world."
As a testament to the brand's design and dependability, Zero Halliburton luggage was utilized by astronauts to transport moon rocks back to Earth during an Apollo mission. In an effort to draw upon this history, the store's design aesthetic was inspired by outer space exploration and hopes to simulate the feeling of weightlessness through a variety of textured materials and slopes throughout the store. Upon entering, visitors will notice lighting columns illuminating where products will be displayed in modern streamlined shelving units made from solid aluminum. Through glass, suspension tactics and lighting, the newest merchandise will "float" in a unique and artistic way, drawing eyes from the street into the store. To emphasize the quality and durability of Zero Halliburton, an ever-changing display will highlight significant bags and the tremendous history behind them, ranging from space missions to car crashes, Zero Halliburton can withstand impact effortlessly.
About Zero Halliburton
For over 75 years Zero Halliburton has defined strength, durability and style with its signature aluminum cases. Today we've added the perfect complement to our iconic aluminum cases with the introduction of beautifully designed nylon and polycarbonate cases redefining the meaning of durability and elegance.