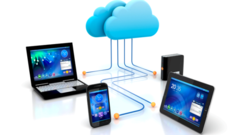 The Dell-ZeroLag partnership provides businesses with a complete range of infrastructure, communications, backup and disaster recovery services
Sherman Oaks, California (PRWEB) June 18, 2013
ZeroLag Communications, Inc. (http://www.zerolag.com), an emerging leader in cloud hosting, has been selected by Dell as one of the three initial partners in the new Dell Cloud Partner Program to deliver public cloud Infrastructure as a Service (IaaS) to its customers.
ZeroLag vCloud Virtual Datacenter Services
ZeroLag vCloud is an enterprise class, multi-tenant infrastructure-as-a-service public cloud solution that is hosted in secured ZeroLag and Dell data centers with cutting edge provisioning, management and performance managed by ZeroLag. With its unique hybrid cloud capabilities, the ZeroLag vCloud provides Dell's customers with on-demand computing capacity to extend their internal data center with the same benefits they have in their own virtualized infrastructure.
Existing Collaborative Effort
"ZeroLag is excited to add our vCloud to the suite of existing services available through the Dell Cloud Partner program," says Will Bernstein, executive vice president of sales and marketing at ZeroLag. "Being part of this program extends the existing collaborative joint effort we share with Dell in areas such as hardware, security, storage and automation. It will allow us to embrace Dell cloud customers into the performance and reliability of our world-class managed hosting capabilities, where they can benefit from our existing expertise in cloud and virtual hosting."
"ZeroLag delivers scalability, reliability and ease of use with their cloud hosting services," says Nnamdi Orakwue, vice president, Dell Cloud. "Our recent purchase of Enstratius, which enables management of resources across multiple cloud services, fits perfectly with the cloud services offered by ZeroLag. We are pleased to welcome them to the program."
Best Possible Pricing
David Buckland, senior vice president, Strategic Partnerships at ZeroLag believes that the partnership with Dell benefits ZeroLag's existing customers as well. "We can bring them the best possible pricing on the underlying Dell servers, storage and networking equipment that provide the foundations for ZeroLag services," he confirms. "What's more, our customers can select the cloud services that make the most sense for their business, then mix-and-match or simply switch as those business needs change," Buckland adds.
"The Dell-ZeroLag partnership provides businesses with a complete range of infrastructure, communications, backup and disaster recovery services," Buckland affirms. "The fact that these cloud services are available from a single provider, powered by best in breed Dell servers, storage and software, is a winning combination for any customer."
About ZeroLag Communications
Based in Sherman Oaks and El Segundo, California, ZeroLag Communications provides managed hosting to many popular websites and applications for clients including the NFL, General Motors and Microsoft Corporation. In addition to cloud and virtual hosting, ZeroLag offers a range of solutions such as fully managed hosting and Magneto enterprise hosting. For more information, contact ZeroLag at 877-ZERO-LAG (937-6524) or visit http://www.zerolag.com.
About DELL
Dell, Inc. (NASDAQ: DELL) listens to customers and delivers innovative technology and services that give them the power to do more. Dell Services develops and delivers a comprehensive suite of services and solutions in applications, business, process, consulting, infrastructure and support to help customers succeed. Learn more at http://www.dell.com.