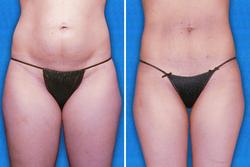 "The amazing thing about the ZERONA technology is that there are no needles, no incisions and no down time. It is state-of-the-art technology and the results are phenomenal."
West Palm Beach, FL (PRWEB) July 15, 2010
West Palm Beach-based board certified plastic surgeon Dr. Daniel Kapp is pleased to offer the latest in non-invasive liposuction from ZERONA®. One of only a few surgeons in Palm Beach County to offer this state-of-the-art technology, Dr. Kapp has the exclusive ability to help patients lose fat and inches without pain, surgery or incisions.
Thousands of people have tried diet and exercise but still have fat and inches they just can't lose. ZERONA® can help. ZERONA® is a clinically-proven new treatment that painlessly reduces inches and removes stubborn body fat. And in just two weeks patients can look and feel better.
ZERONA® is six, quick painless treatments. Right in the comfort of the office of board certified plastic surgeon Dr. Daniel Kapp in West Palm Beach patients simply lie under the ZERONA® laser for 20 minutes on their front and 20 minutes on their back. And unlike minimally-invasive or traditional liposuction, ZERONA® allows patients to continue daily activities without interruption.
Contact Dr. Kapp today at (561) 833-4022 and ask how ZERONA® can provide the results you are looking for without the downsides and inconveniences of surgery.
Dr. Daniel Kapp is a board certified plastic surgeon specializing in cosmetic plastic surgery. He works closely with each patient to develop an individualized plan of treatment and is dedicated to helping you achieve a natural post-surgical look. Dr. Kapp performs a wide array of both surgical and non-surgical cosmetic procedures, including face lifts, brow lifts, rhinoplasty, abdominoplasty and liposuction; breast lifts, breast augmentation and breast reduction; BOTOX®, Restylane and chemical peels; and a variety of laser procedures. For more information call (561) 833-4022 or visit http://www.drdanielkapp.com.
###