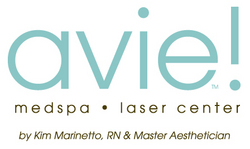 Leesburg, VA (Vocus) March 29, 2010
AVIE! Medspa and Laser Center is proud to announce that total client inch loss using the ZERONA™ body sculpting laser is over 135 inches. Up until now, losing weight was a combination of a restrictive diet and rigorous exercise, or resorting to invasive liposuction to tone and shape the body. The ZERONA™ laser zaps fat with laser light and shrinks fat cells without surgery.
The ZERONA™ Erchonia LipoLaser is safe, effective and FDA market cleared for laser assisted liposuction. The painless procedure involves an average of 6 treatments over the course of two weeks. Patients lie on a table while the low-level laser affects fat cells, causing stored fat to be released from the body during its normal course of detoxification. The result: patients report losing inches from their waists, hips and thighs.
"It is exciting that at AVIE! Medspa and Laser Center we have helped so many people lose inches and feel better about themselves. With ZERONA™ we are seeing fast, visible results in body sculpting and toning and when used in combination with our Medically Supervised Weight Loss program, our patients are completely motivated to maintain a healthier and slimmer lifestyle," says Kim Marinetto, RN.
AVIE! MedSpa and Laser Center will be hosting an Educational Event on Thursday, April 22 at 6:30 p.m. Join Kim Marinetto and Medical Director Dr. Betsy Vasquez and their team as they present the body sculpting and skin rejuvenation alternatives available at AVIE! MedSpa and Laser Center. Learn how you can quickly shed pounds under the supervision of medical professionals and how AVIE! customizes their programs to meet the needs of the individual. Space is limited to 25 people – RSVP by calling: 703-737-0197.
About Kim Marinetto
Kim Marinetto has over 20 years of experience as a Registered Nurse and in the past 5 years has focused her practice on cosmetic medicine, adding to her credentials, a Medical Aesthetician Certification in 2006, along with additional certifications in Botox® Cosmetic, Facial Fillers, Sclerotherapy and various advanced laser systems. Kim is a certified Master Aesthetician and is licensed with the state of Virginia. Additionally, Kim has done extensive training on laser technology and her coursework is recognized by the AMA.
About Betsy Vasquez MD
Dr. Vasquez graduated cum laude from Princeton University in New Jersey and received her medical degree from Albert Einstein College of Medicine in New York in 1986. She completed her residency in Otolaryngology-Head and Neck Surgery at Georgetown University in Washington, DC in 1992.
About AVIE! Medspa & Laser Center
AVIE! Medspa & Laser Center offers the latest in cosmetic medical spa treatments in a relaxing spa environment in Leesburg, VA. Spa Director and Owner, Kim Marinetto, RN and Master Aesthetician, in conjunction with Medical Director and Co-owner, Betsy Vasquez, MD and their highly skilled team provide specialized medspa programs so each of their client's needs are addressed on an individual basis with personalized follow-ups. Their treatments have minimal to no downtime. Services include: ZERONA™ Botox®, Juvederm, Microdermabrasion, Chemical Peels, Micro Laser Peels, Photo Facials, Skin Tightening, Pro Fractional Skin Resurfacing, Laser Hair Removal, Clinical Facials with Professional Skin Analysis and Medically Supervised Weight Loss. AVIE! also carries physician level skin care and make-up, as well as offering gift certificates for special occasions. Consultations are complimentary and financing is available. For more information please call 703-737-0197 or visit http://www.aviemedspa.com .
###