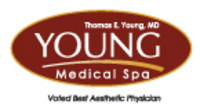 Center Valley, PA (Vocus) July 22, 2009 -–
Thomas E. Young, MD announced the arrival of ZERONA™, the safe, effective and painless way to remove fat and contour the body without invasive surgery, to Young Medical Spa, making Young Medical Spa the first facility to offer ZERONA™ in the Lehigh Valley. During clinical trials, the ZERONA™ has been scientifically proven to result in an average reduction of 3.6 inches from patients' hips, waist and thighs. ZERONA™ is a revolutionary weight loss method that is applied externally without the dangers associated with surgery. The new technology has been proven to reduce inches from target areas such as the tummy, back, hips, thighs, buttocks, chin, neck and arms; contour and reshape the body; and tighten and tone loose skin.
"ZERONA™ is an exciting addition to our existing body contouring program and is an excellent option for patients who are seeking a completely non-invasive, no recovery, pain-free solution to fighting fat and losing inches. It is perfect for those who want to jump start or maintain a healthier and slimmer lifestyle," said Dr. Young
ZERONA™ uses a patented and clinically proven low-level laser technology developed by Erchonia, the global leader in low level laser healthcare applications. The new breakthrough technology underwent extensive nationwide testing before its release. Clinical studies demonstrated that the ZERONA™ low level laser targets adipose tissue (fat storing cells) and stimulates the fat cell to liquefy the fat within the cell. A small pore is then naturally created in the protective membrane of the fat cell enabling the fatty matter to seep out of the cell until absorbed by the lymphatic system. The excess fat is then passed out of the body during its normal course of detoxification which results in millions of fat cells becoming smaller and inches being lost.
Dr. Young will be holding complimentary educational seminars about body sculpting, featuring ZERONA; August 13, 20 and 27, 2009 at 6 pm. The public is invited to enjoy refreshments, hors d'oeuvres, treatment giveaways, exclusive special offers, and see a live demonstration of ZERONA. Seating is limited. RSVP by calling 610-798-SKIN (7546)
For a complimentary consultation or more information on the ZERONA™ treatments at Young Medical Spa call 610-798-SKIN (7546).
About Young Medical Spa
Owner and Medical Director Dr. Thomas E. Young provides the latest in cosmetic medical treatments in Center Valley, PA. Co-owner and Medical Director Dr. Thomas E. Young provide individualized programs so that each client's needs are addressed on an individual basis. Services include: SmartLipo™, SlimLipo™, Vaser® Lipo, LipoDissolve™, Velashape ™, Laser Hair Reduction, Laser Vein Removal, Sclerotherapy, Fractional™ Laser Skin Resurfacing, Fractional™ Laser Skin Tightening, Photo Facials, BOTOX®, Juvéderm™, Restylane®, Perlane®, Radiesse®, and Evolence®. The Spa also offers a variety of clinical facials, chemical peels, DiamondTip microdermabrasion™ and therapeutic massages. Consultations are complimentary and financing is available. For more information please call 610-798-7546 or visit http://www.youngmedicalspa.com .
About Dr. Thomas E. Young
Dr. Thomas E. Young is certified in both internal medicine and geriatrics by the American Board of Internal Medicine. After graduating from Ross University's School of Medicine, he completed his residency at Harrisburg Hospital. Dr. Young has been practicing medicine for almost 20 years in the Lehigh Valley.
###