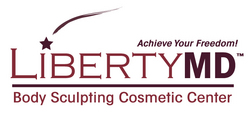 San Diego, CA (Vocus) June 3, 2009
Practically forever, women and men have been fighting issues with fat. There has never been a completely non-surgical solution that has rivaled the quick results of liposuction…until now. Introducing ZERONA™, an FDA approved laser that melts fat without surgery, medication, incisions, pain or recovery time. The ZERONA technology has been FDA approved for use along side traditional liposuction for over 5 years. Now this technology is FDA approved to fly solo as a non-surgical alternative to liposuction and it is exclusively available in San Diego at LibertyMD (formerly GlowMD Skin Care).
"The technology is amazing. As a physician, I am always skeptical about the effectiveness of weight loss services and products. It seemed unlikely something could be so effective without touching the skin. However, now that we have it and I've seen the ZERONA laser's results for myself, I believe this is going to change the way people fight the battle of the bulge", says Dr. Julie Doyle, medical director at Liberty MD.
The ZERONA body-sculpting laser procedure removes fat and contours the body without invasive surgery. According to the manufacturer Erchonia®, ZERONA allows the patient to continue their daily activities without interruptions from surgery, pain, or wounds.
ZERONA is considered a cold laser, designed to emulsify adipose (fat) tissue which then releases into the interstitial space. The excess fat is passed through the body during its normal course of detoxification. The ZERONA procedure is proven through a double blind, randomized, multi-site, and placebo controlled study. Patients lost 3.5 to 9 inches compared to the placebo group that lost only a half an inch. ZERONA body sculpting requires 6 sessions over a 2 week period. Patients are losing an average of 2 to 7 pant or dress sizes.
Dr. Doyle has been working with aesthetic lasers for many years and is very excited that she is now able to help her patients slim down fast without the use of pills, lotions or risky surgery.
LibertyMD will be holding a free ZERONA informational seminar on Wednesday, June 10 at 6 pm at their body sculpting center, located at Liberty Station in the Point Loma section of San Diego. Guests will have an opportunity to learn more about the ZERONA body contouring treatment, see a live demonstration and participate in a Q & A session with Dr. Doyle. To RSVP call (619) 523-1787; seating is limited to 25. Call for more information or visit: http://www.libertymdsandiego.com
###