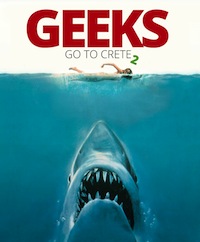 We are already 20% above of our entire 2011 revenue, and we still have 5 months in the year to go – I am over the moon to be able to give back to the team -Jevgeni Kabanov, CEO and Founder
(PRWEB) August 22, 2012
Fact #1: ZeroTurnaround creates Java productivity tools for Dev and Ops teams.
Fact #2: ZeroTurnaround functions at a very efficient and high level of energy.
Fact #3: ZeroTurnaround can maintain this level of output on a beach in Greece... wait, really?
In a bold move by management, ZeroTurnaround has decided to test the boundaries of productivity and send the entire 65-person company (up from 35 from the end of 2011) to the island of Crete for a little work and play, similar to last year's company retreat.
Founder and CEO Jevgeni Kabanov has always preached the necessities of taking care of his team and rewarding great work, and it's safe to say he is following through on his word.
"We are already 20% above of our entire 2011 revenue, and we still have 5 months in the year to go - I am over the moon to be able to give back to the team," said Kabanov.
Not only will the team spend time laying on the beach, eating olives and drinking wine, but also continuing to run business as semi-usual. The ZeroTurnaround sales team will continue to handle their duties and provide support to customers. The ZeroTurnaround marketing team will continue to churn out content, tweet, and make pretty diagrams. And the ZeroTurnaround engineering team will continue be off geo-caching someplace....and writing code.
"I'm mostly pumped to check out Crete's internet access - I've heard only great things, especially from our local friend & Java Champion, Heinz Kabutz," commented Toomas Römer, Director of Engineering. "Last year he took us swimming and nearly exhausted the entire brain trust of ZeroTurnaround by over-snorkeling. Plus, I've got some new cartwheel moves to try."
ZeroTurnaround is a company concerned with the lifestyle and health of its employees, and this temporary relocation provides the team, located in 3 different countries, the opportunity for some much needed face-time. This includes breakout meetings where team members will have the opportunity to attend "un-conference" sessions where they will get a deeper look into the activities of different activities first hand.
"ZeroTurnaround is a lifestyle company," said Jeremy Lopez, Director of Marketing. "Our products and overall company are only as good as the people who create them. And this is something we need to maintain as we grow and build new teams. It's a challenge, but one that we savor."