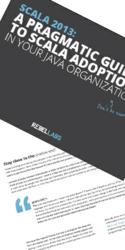 (PRWEB) September 26, 2012
ZeroTurnaround, creator of Java's most popular restart eliminating tool JRebel, last week released Scala 2013: A Pragmatic Guide to Scala Adoption in Your Java Organizaton.
In this 30-page report, a technical critique of Scala's benefits and disadvantages is presented, along with commentary from Joshua Suereth, author of "Scala in Action", in addition to a lengthy interview with Scala founder, Dr. Martin Odersky.
"The first thing to know is that being more abstract and more functional is often better but not always. There is no better or worse here. For some problems and themes, a Java-like style is actually very appropriate; for other problem areas, you want to be more abstract. The second observation is that if you start with Scala be prepared that you will make a journey," according to Odersky.
In the last few years there has been a some criticism of Scala, namely that Scala is too complex. The Scala 2013 report addresses the idea that the perceived complexity of Scala actually arises more from the diversity of the ecosystem rather than the language itself. The report visits a simpler subset of Scala that is ideally a more sensible place to start for Java teams considering adopting it in 2013 or later.
"You can think of Scala as a swimming pool - there is a deep end and a shallow end; it seems that many people who haven't learned to swim yet jump straight into the deep end. Inevitably, after splashing about for a while are surprised to find that their legs don't quite reach the floor, or that they sank to the bottom and are startled by not being able to breathe underwater," commented Erkki Lindpere, the report's lead author.
The interview with Odersky begins with the finding in this year's Developer Productivity Report that a surprising 11% of respondents use Scala on at least some of their projects - but Odersky refused to get too excited.
"Among the population at large, I think we are currently somewhere between 1-2% of the Java market overall and still growing quite rapidly, almost a 100% year-over-year."
This growth has gotten some recognition as of late - Odersky is Chief Engineer at Typesafe, the Scala ecosystem tools & frameworks company that recently took on $14m of venture capital investment.