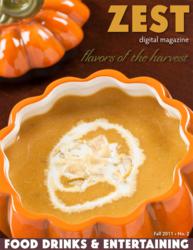 ZEST is a free digital magazine created for people who love to cook and entertain at home.
Orlando, FL (PRWEB) October 04, 2011
The newest issue of ZEST Digital Magazine is now available for readers to find inspiration for fall cooking and entertaining.
ZEST is a new publication created by the editorial staff at Zest for Life Media in Orlando, Florida. The fall issue features a collection of easy recipes, do-it-yourself decor ideas and simple entertaining tips inspired by the flavors and colors of the season.
"Cooler weather and changing leaves may be the classic signs of autumn, but for people who love to celebrate the season with food, drinks, family and friends, fall is all about apple picking, trips to the pumpkin patch, fragrant spices, spooky Halloween treats and soul-warming comfort foods," says editor Erika Pitera.
Pitera and ZEST publisher Lynne Webb offer their expert tips on how to make the most of the season:

Host a casual get-together with a wine and cheese selection sure to please any palate.
Prepare your house for fall guests with simple and inexpensive decorations for your table or mantle.
Perfect your skills in the kitchen with foolproof roast chicken and comforting side dishes.
Throw a grown-up Halloween party with cupcakes, cocktails and a wickedly witchy theme.
Savor the flavors of the harvest with a decadent Caramel Apple Bread Pudding and other sweet treats.
For a special occasion or casual gathering, whip up these easy-to-make chocolate truffles flavored with a blend of fragrant fall spices.
Autumn Spice Truffles
3 ounces high-quality bittersweet chocolate, chopped
4 ounces reduced-fat cream cheese, softened
1/2 cup high-quality unsweetened cocoa powder, divided
1 tablespoon spiced rum
1 teaspoon pumpkin pie spice
1 teaspoon vanilla extract
1-3/4 cups confectioners' sugar, divided
Line a cookie sheet with parchment or wax paper. Microwave the chopped bittersweet chocolate in a glass bowl or measuring cup at full power for one minute. Remove from microwave and stir until chocolate is completely melted and smooth. Set aside.
Place the softened cream cheese in a bowl and beat with an electric mixer at high speed until smooth, about 15 seconds. Add the melted chocolate and beat again until well incorporated, stopping to scrape down the sides with a spatula. Add 1/4 cup of the cocoa powder along with the pumpkin pie spice, rum, vanilla and 1 cup of the confectioners' sugar. Stir until well blended. Mix in the remaining 3/4 cup of sugar. The mixture should be quite stiff.
Sift the rest of the cocoa powder into a small shallow bowl. Form 1" balls from the truffle mixture and roll them in the cocoa powder to coat the outside. Place the truffles on the lined cookie sheet and refrigerate until well chilled. Keep refrigerated in an air-tight container.
Makes about two dozen.
For more fall recipes and other updates, ZEST Digital Magazine invites readers to read the latest issue on any computer or mobile device and to follow them on Twitter at @zestdigitalmag and Facebook.com/ZESTFoodDrinksEntertaining.
About ZEST Digital Magazine
ZEST Digital Magazine is a free, seasonal online magazine created by Zest for Life Media in Orlando, Florida. Founded in 2007, Zest for Life Media's mission is to provide quality content through its lifestyle publications, which range in focus from fine food and drinks to crafts and entertaining and events. If you'd like more information about fall entertaining, visit http://www.zestdigitalmag.com. To schedule an interview with Erika Pitera or Lynne Webb, please contact by phone at 888-316-2474 or by email at editor(at)zestdigitalmag(dot)com.
###