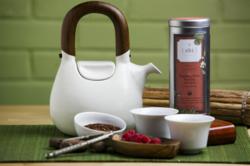 Nutty pecan notes with a soft berry finish.
Austin, TX (PRWEB) August 23, 2012
This fall, Zhi Tea is proud to introduce two new signatures: Lady Lavender White and Raspberry Pecan Rooibos. Committed to organics, fair trade and memorable tea experiences, Zhi Tea blends these culinary creations by hand in small artisan batches. Both white tea and rooibos are full of antioxidants and can be enjoyed hot or iced.
"When we think about what we love about tea and what we love about Texas, we kept coming back to lavender and pecans," says Dr. Oolong (a.k.a Zhi Co-founder Jeffrey Lorien). "The white tea is light and floral with notes of honey. The rooibos is toasted, nutty with a thick, creamy mouthfeel. I tried to pick a favorite, but just can't."
The lavender and raspberry qualities of each tea sweeten the cup naturally, making the tea enjoyable without any added sugar. "If you're looking for a sensual, decadent and healthy drink this Fall, this is it." says Lorien. "They're also a great base for sparkling drinks, tea syrups and specialty cocktails. These teas will surely inspire."
For more information on the role of tea and health and to find your new favorite tea, please visit http://www.zhitea.com
About Zhi Tea
Zhi Tea was founded in January 2007 to specialize in the highest quality organic and Fair Trade loose-leaf tea. Dedicated to customers seeking exquisite flavor without compromising environmental and social responsibility, Zhi Tea established itself as a quality supplier of premium tea backed by exceptional customer service. Over eighty organic, fair trade teas and beautiful gifts await at http://www.zhitea.com For updates and tea events, follow us on Facebook!