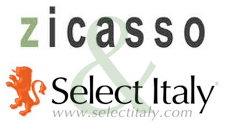 Zicasso and Select Italy are demonstrating the success of a hybrid online + offline model.
Mountain View, CA and Chicago, IL (PRWEB) May 17, 2011
Zicasso, an online luxury travel referral service that matches discerning travelers with the industry's top 10% travel specialists, and Select Italy a travel company specializing in handcrafted Italian vacations, today announced a partnership that blends the convenience of online travel with the personalized service of offline destination experts. The partnership is beneficial to both companies and their customers in that Zicasso brings the online marketing expertise to attract online travelers, while Select Italy offers the offline expertise of a top travel specialist to provide the personalized service that travelers want.
The collaboration addresses a growing demographic of travelers who want to leverage the Internet to research and book travel, but still want to receive top quality customer service, destination expertise and authentic travel experiences from offline travel specialists. According to Forrester Research, more consumers are now fed up with the complexities of online travel booking engines. In 2010, 28% of online travelers said they would use a good travel agent -- up from 23% in 2008.
The bulk of DIY online travel sites provide only automated, self-service; offline travel agents can up the ante by offering highly customized itineraries, and booking complex vacations that include multiple destinations, activities and authentic experiences. Zicasso and Select Italy are demonstrating the success of a hybrid online + offline model.
Online + Offline Model Works Best for Luxury Travel
Zicasso's online + offline model is proving to be a success in catering to the high-end, luxury travel market. There are four important operating principles that reflect Zicasso's approach:
1. Carefully screen and partner only with the best custom travel specialists. As a member of Travel + Leisure's A-List, Select Italy is a prime example.
2. Develop in-depth, high-touch partnerships, providing detailed feedback and best practices to ensure mutual success with travel specialist partners.
3. Develop targeted marketing campaigns to match highly-qualified luxury traveler leads to partners.
4. Provide trusted travel reviews from real vacationers who booked and traveled with travel specialist partners.
Through its partnership with Zicasso, Select Italy has been able to reach a larger, luxury client base, particularly travelers who typically research and book travel online. Over half a million dollars in bookings have been confirmed, with good momentum in the past year in sales and in average bookings prices, which exceeded $15,000 per trip in the past 3 months.
In addition to sales growth, Select Italy further established its presence and reputation online with the overwhelmingly positive reviews provided by travelers who used Zicasso to plan and book their vacation with Select Italy. Zicasso provides the industry's only transparent ratings and reviews system for travel specialists to build their online reputation; travel reviews are based on bona-fide reviews from real travelers who made actual purchases and completed their trips arranged by Zicasso travel specialist partners. Select Italy maintains a 4.8 star rating (out of a maximum of 5) in Zicasso's trusted travel reviews system. Future travelers considering the services of both companies can access these reviews knowing they provide credible, accurate information from a broad range of very satisfied vacationers.
Andrea Sertoli, president of Select Italy, noted, "Zicasso is the only lead generation site that consistently delivers qualified referrals of luxury travelers to us. Additionally, Zicasso has been a valuable partner because they provide effective sales feedback and best practices that have enhanced our capabilities to sell to online luxury clients. We're excited to extend our close collaboration and serve as a trusted specialist to Italy for Zicasso's customers."
Brian Tan, founder and CEO of Zicasso.com, commented, "As a Travel + Leisure A-List award recipient for 9 years running, Select Italy is clearly a recognized leader in custom travel to Italy. Importantly, the highly favorable reviews from Zicasso travelers confirm that Select Italy is amongst the best-of-the-best in the industry. We see great opportunities for both our companies to expand our partnership and accelerate growth."
About Select Italy
Based in Chicago, with branches in New York City and Shanghai and representatives in Italy, Select Italy has been a trusted Italy travel specialist since its establishment in 1997 by Italian-born company President, Andrea Sertoli. Select Italy is the ultimate source for travel in Italy, offering a wide array of superior Italian products and services, including customized itineraries, state-of-the-art tours and packages, wedding/honeymoon trips, unique culinary classes, a complete pre-departure ticketing service for museums and musical events, private guided services, yacht charters, transportation, hotel reservations, villa bookings and more. Select Italy is committed to creating the perfect vacation and maximizing enjoyment in Italy for its clients by adhering to the highest standards of professionalism. For more information, visit http://www.selectitaly.com.
About Zicasso
Featured in Travel + Leisure magazine's "Best Travel Websites" of 2010, Zicasso is a distinctive, online luxury travel referral service that combines the convenience of the Internet and blends it with white glove, offline service from top 10% travel agents and tour operators. Zicasso gives busy, discerning consumers a hassle-free way to obtain customized, unique, and authentic travel experiences rarely found on existing online sites. Ideal for planning complex trips, Zicasso saves travelers time and delivers best value by matching them to pre-qualified top travel specialists who compete to provide personalized, handcrafted itineraries. Based in Mountain View, CA, Zicasso is a privately-held company. For more information, visit http://www.zicasso.com or http://pitch.pe/147006. Follow Zicasso and learn more on the Zicasso Facebook Page.
Editor's Note: Artwork available upon request.
Press Contact:
Carmen Hughes
Ignite Public Relations
W: 650.227.3280 ext.1
C: 650.576.6444
carmen(at)ignitepr(dot)com
###