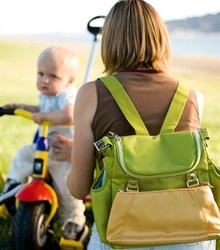 Cary, NC (PRWEB) February 4, 2008
ZillaShops, a growing specialty online retailer, announces the launch of their newest store, DiaperBagZilla.com.
Becoming a parent doesn't mean giving up your sense of style. But wherever you go with your little one, you need something functional to carry all of their gear in. DiaperBagZilla fills that need with it's great line of modern, trendy diaper bags from leading manufacturers including Fleurville, OiOi, Loom, Kalencom, Fanci-Free and Trend Lab. From the mom wanting a diaper bag that looks more like a fashion statement, to the dad wanting a more masculine bag to tote around his baby's necessities, DiaperBagZilla offers something for everyone.
In addition to a great selection of designer diaper bags for mom, they also carry a huge selection of messenger bags, stroller bags, daddy diaper bags, backpacks and kid's bags in a variety of colors, patterns and materials to choose from. This will ensure that even the most particular shopper will find what they are looking for.
So whether you are a parent on the go, someone that needs to find that perfect gift for the expecting mom and dad, or a grandparent that frequently totes around your pride and joy, DiaperBagZilla has a diaper bag that will meet your needs. Their free shipping, low price guarantee, secure shopping and great customer service are just a few of the things that set ZillaShops apart from other online retail stores. For style, selection, function, affordability, and convenience, visit DiaperBagZilla.com today!
About ZillaShops
ZillaShops is a growing Internet specialty retailer. Each one of their online stores is built around a specific niche and offers free shipping, the best service, selection and price. Their first site, BeanBagZilla.com, is a leading web retailer of bean bag chairs, Fuf Chairs and children's bean bags.
###