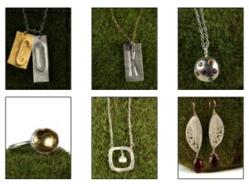 Zina Kao Jewelry has really unique jewelry that can really accent an outfit for a special occassion. Very nice!
Los Angeles, California (PRWEB) November 30, 2012
Zina Kao Exclusives has partnered with Sweepstakes Ninja for a Jewelry Giveaway. Zina Kao Exclusives are contemporary jewelry for the modern woman. They are designed to be current, timeless, classically fashionable, with clean lines and fine details like their signature hand brushed metals. Sweepstakes Ninja helps consumers engage with brands such as Zina Kao Exclusives through social media, video marketing, blogging, partner websites and forums, and more through their online sweepstakes giveaways.
Zina Kao Exclusives specializes in wholesale jewelery to other retailers (store, web, catalog) for resale. Their product line features sterling silver, 14kt goldfill chain and findings for the best quality and value for customers. Zina Kao Exclusives specializes in semi-precious and precious gemstones, charms and pendants are specially selected sterling silver. Sterling silver charms and findings are also covered in a heavy 23kt gold.
Sweepstakes Ninja offers consumers the chance to enter multiple sweepstakes through their innovative online sweepstakes draws (http://sweepstakesninja.com/sweepstakesdraw/draw/zina-kao-jewelery/). They are daily entry draws, that not only give consumers chances at winning amazing prizes, but also give companies daily branding exposure to consumers. Through the sweepstakes draws, contestants have a chance of winning a jewelry gift sponsored by Zina Kao Exclusives.
The sweepstakes promotion officially runs until December 1st, 2012. To increase their chances of winning, the entrant may share sweepstakes links with friends, family, and through social media. This is a win-win situation for both Zina Kao Exclusives and the entrant. Entrants increase their chances of winning award winning products, and more people learn about Zina Kao Exclusives. There have already been 10,000+ individuals introduced to the Zina Kao Exclusives product line through Sweepstakes Ninja.
For more information about how Sweepstakes Ninja promotional marketing services deliver profits for companies, visit Sweepstakes Ninja main website for details.
About SweepstakesNinja.com
SweepstakesNinja.com is the leading provider of fun and interactive sweepstakes. The company matches consumers with companies, in a fun and interactive manner. Consumers have the chance of winning amazing prizes. Companies benefit from daily exposure to their brands, word of mouth advertising, customer loyalty, and long term increases in profit. For more details, visit http://www.sweepstakesninja.com/