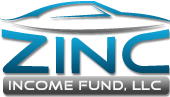 RISC investing offers clients the ability to achieve an excellent ratio of high return on investment to minimal risks.
Irvine, CA (PRWEB) May 01, 2013
Zinc Income Fund, a premier automobile investment fund, partnering with serious investors, is pleased to announce its fifth consecutive month of double-digit returns. The fund's returns have grown consistently month over month since the formation of the company. Over the course of the past year, Zinc Income Fund's returns have averaged 14% net of fees with a cumulative return to investors of 6.81%.
"Our investors have discovered that participating in retail installment sale contracts (RISC) is a smart way to diversify their portfolios," Todd Pigott, Principal at Zinc, said. "RISC investing offers clients the ability to achieve an excellent ratio of high return on investment to minimal risks."
Zinc Income Fund's proven business model focuses on offering automotive loans to non-prime lenders. The team of investment experts at Zinc carefully chooses borrowers who are extremely likely to repay their loans in full plus interest. By lending to borrowers who are purchasing reliable used cars for commuting and family purposes, Zinc Income Fund is able to assist borrowers who do not qualify for prime auto loans while also minimizing risks. Odd as it may sound, when non-prime lenders fall behind on house and credit card payments, they quite consistently stay current on their car loan payments because they see their cars as a necessity in order to get to work and earn a living, particularly in California.
Despite the difficult economic period of the last several years, automotive delinquency rates are at record lows according to TransUnion. In fact, at the end of 2012, the nationwide automotive delinquency rate was at 0.41%, a drop of five basis points from 2011. "Delinquency on these loans is extremely rare, and when it does happen, we retain a lien on the vehicle, so the loan is secured by that collateral," Anthony Geraci, Principal at Zinc, noted.
The non-prime automotive market is currently over $150 million, and traditional banks simply do not have the means to serve it. When a borrower applying for a car loan has any type of blemish on their credit report, they are turned away without further investigation. Zinc Income Fund is able to serve this market by utilizing state of the art technology and intuitive algorithms that allow Zinc's fund managers to identify non-prime borrowers who are likely to repay their loans in a timely manner.
Pigott commented, "There is a significant portion of the population in California who didn't make it through the recession unscathed. By offering reasonable loans to low-risk borrowers, we are able to help these people out and provide excellent ROI to our investors."
Though Zinc Income Fund is still relatively young, it is backed by strength, experience, and impressive growth. With the support of world-class investment professionals and investment from the company's own principals, the fund has continued to mature month over month and is already generating excellent returns for its investors.
ABOUT ZINC INCOME FUND
Zinc Income Fund is an automobile investment fund that gives savvy investors the opportunity to take advantage of the booming non-prime automotive loan market. By providing loans to select non-prime borrowers in California, Zinc Income Fund generates consistently high returns for investors month after month. The company's business model has generated returns in excess of 14% per annum. Additionally, Zinc has formatted its distribution system so that members receive a distribution of 10% of the extent cash available per annum analyzed on a monthly basis before management realizes any earned compensation.
No other fund of this type offers the level of returns, security, and service provided by Zinc Income Fund. The fund utilizes a proven model that creates double-digit returns for investors without taking unnecessary risks. Investors who choose to partner with Zinc Income Fund have the opportunity to generate returns that are more lucrative than bonds and CDs and much less risky than stocks. As part of a diversified portfolio, investing in retail installment sale contracts through Zinc Income Fund is an effective and low-risk way to strengthen any investment portfolio.
Learn more about investing with Zinc Income Fund by visiting ZincIncomeFund.com or calling (949) 379-2560. The company's team will be happy to answer all of your questions and provide you with specific financial information regarding possible investment opportunities.