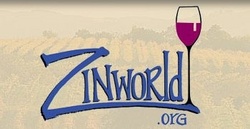 The creation of ZinWorld is a major breakthrough for us
ROUGH AND READY, Calif. (PRWEB) September 11, 2008
ZinWorld.org is a Zinfandel search portal and an online social networking site where wineries, growers and consumer/members (referred to as "Advocates") build mini-sites, post information, exchange emails, photos, and search locations through Google Maps technology. Even though the site/portal is new, wineries and Advocates are busy building their mini-sites and the video 'channel' is hopping as well.
ZinWorld.org made its 'beta' debut at the Zinfandel Advocates & Producers' Grand Zinfandel Tasting on Saturday, January 26, 2008, at Fort Mason in San Francisco, part of Zinfandel Advocates & Producers' four day Zinfandel Festival--where 10,000 people enjoyed the array of Zinfandel-themed events.
The 18th Annual Zinfandel Advocates & Producers Festival will take place January 28-31, 2009 in San Francisco: tickets go on sale on October 1 (2008) from 530/274-4900 or http://www.zinfandel.org; updates can be found at http://www.zinfandel.org and http://www.ZinWorld.org.
"The creation of ZinWorld is a major breakthrough for us," comments Bruce Walker, President of the Board of Directors (and President of Starry Night Winery). "This investment in website technology makes new methods available to enhance our efforts to preserve Zinfandel for the future, and creates a dynamic resource for our members." Walker describes ZinWorld as a location where members tap into a powerful, innovative search system that supports their interests. "I predict this new website will propel our organization to the forefront of the wine world by connecting those who make Zinfandel with those who enjoy drinking it, and will increase recognition and appreciation for Zinfandel as America's Heritage Wine."
Zinfandel Advocates & Producers, as an organization, established an enormous wine industry paradigm when its founding members decided that consumers would be welcomed as members ("Advocates") in 1991 when 22 vintners founded the group. That was an unprecedented step since most wine industry varietal- or region-specific organizations limited their membership to wineries. Today the membership consists of winegrowers, winemakers and wine enthusiasts. The common focus is the preservation and recognition of Zinfandel as America's heritage wine. The organization has approximately 300 winery-members, over 5,000 advocate-members and over 80 associate members.
ZinWorld was designed by Jared Krupnick (http://www.Pullseye.com), designer and webmaster of http://www.zinfandel.org.
Visit http://www.zinfandel.org to join and research Zinfandel. Zinfandel Advocates & Producers is a non-profit 501(c)(3) organization, dedicated to advancing public knowledge of and appreciation for American Zinfandel and its unique place in our culture and history. Contributions, grants and gifts are tax deductible to the extent allowed by law and provide support for our research and educational programs. The group's federal tax ID is 94-3151462.