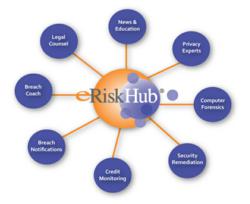 "Managing reputational risk is a critical component of data breach response."
NEW YORK, NY (PRWEB) August 07, 2012
Zing today announced it has co-created a new estimating tool that helps companies model the potential costs of crisis communications counsel and services related to the disclosure of sensitive or protected information.
Zing President & CEO Robert McEwen, working in tandem with attorneys, insurers and underwriters, created the tool for NetDiligence®, a leading cyber risk assessment and data breach services company.
The Public Relations Cost Calculator is one of several tools available to NetDiligence partners on its industry-leading eRisk Hub® portal to help companies prepare for and estimate the costs of managing data breaches.
"An ever higher percentage of corporate crises involve incidents in which accident, negligence or malice results in the unauthorized public disclosure of credit card information, social security numbers, and protected health information," McEwen said.
"It's been my privilege to work with NetDiligence in designing a tool that helps victimized companies prepare for these inevitable misfortunes and estimate accurately the costs of communicating effectively during such crises," he said.
The tool itself consists of 12 questions about the type of data, number of records compromised, cause of the breach, internal communications resources and degree of preparedness for such an emergency. Algorithms translate answers to these questions into dollar figures so clients can estimate costs their costs in advance.
"Managing reputational risk is a critical component of data breach response," commented Mark Greisiger, President of NetDiligence. "Companies often panic following a data breach incident and dealing with the media adds to the complexity. Working with Zing, we've created a tool that helps businesses focus on the cost drivers for that aspect of breach response."
NetDiligence provides enterprise-level cyber risk assessments for a broad variety of corporate clients, including well-known names in banking, brokerage, mortgage, insurance, clearinghouse, and other financial service sectors. Their services are used by leading insurers in the US and UK that offer cyber liability insurance for businesses.
Zing is a public relations and marketing communications agency based in New York, offering expert counsel and services including traditional and social media relations, media and presentation training, experiential and event management, reputation management, and crisis preparedness/management.