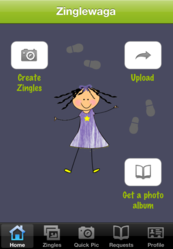 Vancouver, BC (PRWEB) May 05, 2011
The Zinglewaga iPhone photo app with voice captions makes it quick and easy for busy parents to save their kids' fleeting childhood moments, ensuring those memories are not lost.
A key feature of Zinglewaga is that it allows parents to add voice captions to photos and video. Voice captions can make the photos and video more meaningful, especially when it's the kids recording their own cute voices. Catch them singing, giggling, or saying "lellow", "aminal"', or a big word like "radiotypical".
The sentiment that inspired the development of Zinglewaga is echoed by Katrina Kenison, a mother and author of "The Gift of an Ordinary Day" - she says she has shelves full of photo albums documenting birthdays and other special occasions, but what she yearns for most are the seemingly small fragments of all those perfectly ordinary days that no one thought to take a photo of.
Zinglewaga saves parents time and effort, making it easy to enjoy all the "Zingles" they create. Each month, Zinglewaga automatically bundles all the photos, video and voice captions and delivers a walking, talking, multimedia photo album right to their inbox to enjoy instantly and cherish forever. Simply click a link to download a Zinglewaga album and view it using the iBooks eBook reader on the iPad, iPhone or iPod touch. It's also easy to send photo albums to family and friends. However, Zinglewaga photo albums are private - unless one chooses to share them.
Zinglewaga can add voice captions to photos and video created with other iPhone photo apps, and include them in Zinglewaga photo albums.
The Zinglewaga iPhone photo + voice app has just been released and is now available on the App Store.
The photo + voice app is free and can be used to create Zingles on the iPhone, but to get Zinglewaga photo albums, a subscription must be purchased within the app. A 3-month auto-renewable subscription costs $0.99 USD. A 2-week trial subscription is included with the app.
Zinglewaga is currently running a launch promotion for Mother's Day. Download the app and create a Zinglewaga account by May 14th, 2011, and get Zinglewaga photo albums for the first 2 months at no charge.
Zinglewaga is created and developed by a Vancouver Mom and Dad, Joonhae Park and Martin Bayly, each with 20 years experience in databases and software development in England, USA and Canada. They can only boast about half as many years of parenting experience. Suddenly becoming aware of how quickly their kids' childhoods are slipping away has inspired Joonhae and Martin to create Zinglewaga.
###