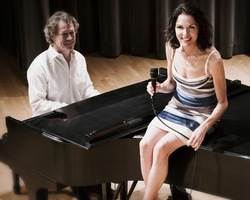 "You sometimes feel like you're floating in the sea of YouTube videos and mp3 downloads with no way of gaining ground. This kind of industry recognition really provides a measuring stick, and a way up"
Long Beach, CA (PRWEB) January 11, 2010
Most of the time we find ourselves a little to tied to our cell phones, but every now and then you miss something important by letting it go to voicemail. It wasn't till a couple of hours later that Tom Zink decided to check the message his friend Brian Bromberg had left informing him of the Grammy nomination. "I knew that the nominations were going to be announced that day, but the competition was so stiff that a nomination wasn't even on my radar screen."
With so many well known established artists in a category like best arrangement, it's rare for an independent label to garner a Grammy nomination. Nominated for his work on Anne Walsh's "Pretty World" CD at this year's upcoming award show, Tom will be up against many talented producers. Their unique track "In the Still of The Night" shares the honor of nomination for best arrangement with the likes of David Foster (for Seal), Klaus Ogerman (for Diana Krall), and Vince Mendozza (for Melody Gardot).
The nomination is all the more welcomed becuase of the changes that have swept over the music world in the last few years. At a time when anyone can cut and paste pre-recorded sounds together and release it as a CD, it's more difficult for an indendent artist to have an impact. "You sometimes feel like you're floating in the sea of YouTube videos and mp3 downloads with no way of gaining ground. This kind of industry recognition really provides a measuring stick, and a way up" Tom commented. "To be honest, it wasn't something we planned for. We were really just focused on the music, but this kind of an honor is a pleasant surprise. Perhaps it will give us that little extra inspiration and boost to take us further."
Tom and Anne combine their talents day in and day out not only as husband and wife, but as singer and producer. Working together is not an easy feat for any couple, but they make it work through patience, listening, understanding, and lots of love. Both Anne and Tom are quick to sing the other's praises, but it really is a joint effort and melding of talents that has gotten them this accolade. Anne's beautiful vocals fill their latest release with sweet melodies and Tom lends his arranging talents stemming from years of passion and learning. "I'm not going to tell you its always easy working as husband and wife." Anne said. "It has taken us two previous CDs plus additional session work to find our groove together, so to speak. While recording the Pretty World CD, we were finally secure enough with ourselves and each other to know when to give and take, insist or defer, while respecting each others artistry."
Anne grew up in Massachusetts, and was inspired at a young age by the sounds of Ella Fitzgerald and a lively community of Brazilian Jazz musicians. After moving to California to pursue her career, Anne received her Master's degree in Voice from CSULB. Tom, a Laguna Beach native, was interested in music starting from a young age. He began on the accordion when he was 4 then moved to piano. After graduating from UCLA he studied arranging formally with Lyle "Spud" Murphy for 5 years and has been arranging and producing for many artists in the years since. Ironically Tom cites fellow nominee Klaus Ogerman as one of the earliest inspirations helping to shape his musical identity. "Klaus's work with Bill Evans and Antonio Carlos Jobim really opened my eyes to how important arranging is to the beauty of a work. It takes real thought to use orchestral instruments in a jazz setting without tipping it into 'elevator music'."
When arranging any song, it is important to keep in mind the personality of the artist, "to embrace the singer while providing a platform for them to shine on." Arranging encompasses everything from setting out the structure & form of a song to creating harmonies and working out the rhythmic feel or "groove". "This song [In the Still of The Night] was in some ways the most natural for us because it's the kind of music we've been performing the longest. Cole Porter was so far ahead of his time harmonically, that his music provides a really great canvas to work from. As the arrangement was being conceived, Anne's vibe- her phrasing, sensitivity, and pure tone helped shape the harmonic choices." Though an arranger is on his own to contribute his unique vision to the writing of the orchestral instruments, such as strings, it still remains a joint effort. The artist and the arranger need to work together to achieve a unique sound. Tom and Anne accommodated each others artistic choices as this track was evolving. Anne added, "This is the most intimate track that we have ever recorded, I knew it was the jewel of the album."
Looking to the future, Anne's excitement for the award show is overshadowed only by her eagerness to begin their next project together. "Now I want to do more of this. I am thrilled for this Grammy nomination for Tom and I believe it is yet another beginning for us. We are inspired for our next album with more beautiful arrangements, innovative takes on classic songs, and original material as well. My husband Tom is a gem."
**Tom Zink is the owner of AtoZink Studios. Both Anne and Tom currently reside in Long Beach, CA. ' Pretty World' was released in June 2009 and 'In the Still of The Night' is nominated for a 2010 Grammy award in the category: best arrangement accompanying a singer** Tune in on January 31st for the televised Grammy award ceremony.
###