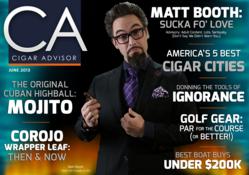 Out of the hundreds of cigar factories that existed in Ybor City and West Tampa, only about two dozen are still standing.
Easton, PA (PRWEB) June 11, 2013
The all-new Cigar Advisor is an online cigar magazine that brings a fresh, irreverent, and down-to-earth perspective on all things cigars to thousands of smokers. In addition to educational cigar content and behind-the-scenes cigar industry articles from some of the business's top names, Cigar Advisor delivers an array of content about a variety of topics of interest to people who enjoy the cigar lifestyle. The magazine also features cigar reviews and ratings submitted by real smokers. Cigar Advisor has just published two new updates to their June issue, both detailing the history of cigars.
Contributor Tom Ufer writes a feature in the new issue called "Tampa with a Twist." Ufer comments on Tampa's heritage Cuban culture, noting that "the city of Tampa has played a major role in the history of handmade cigars since 1866 when Vicente Martinez bought 40 acres of land and founded Ybor City." Out of the hundreds of cigar factories that existed in Ybor City and West Tampa, only about two dozen are still standing. Tom details the efforts of some of the cigar industry's leading manufacturers, noting the effects of their work to restore several of the city's original factories. He also calls attention to the trend of several new Tampa-based boutique cigar companies moving in - keeping the city's cigar-making tradition alive to this day.
Cigar Advisor Executive Editor Gary Korb continues with the second installment of his three-part narrative on the life of Zino Davidoff, titled "From Russia with Luck." The setting is just after the First World War - the 20's are now roaring in the U.S. and Europe. "A free man," Korb writes, "Zino decides to travel to South America to learn about tobacco from the ground up - literally." The piece highlights a part of Davidoff's biography at a time when, with only 300 francs in his pocket, Zino traveled to Paris where he experienced life among 'la boheme.' From there, the setting moves to Argentina, then on to Brazil, and finally, to Cuba, where Davidoff completed his education in tobacco. Gary writes, "It is an adventure that will open the doors to Zino's ultimate destiny."
About Cigar Advisor Magazine
Cigar Advisor magazine is a digital publication created for real cigar enthusiasts who love tobacco and live the lifestyle. Cigar smokers are passionate about almost everything they do - whether it's the drinks they savor, the food they devour, the cars and motorcycles they dream of, the sports they're fanatical about or the women they love, Cigar Advisor shares those passions with a razor-sharp edge, soaking up each day and experience as if it were our last. Find that passion and more on display at CigarAdvisor.com.