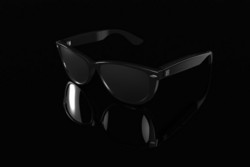 "Eyez™ gives people the ability to share the world as they see it in real time, from a truly first person perspective, without compromising convenience or style."
Seattle, WA (PRWEB) March 7, 2011
Eyez™ embeds an HD 1080p video camera within the frame of the eyeglasses to record live video data. The recorded data can be stored to the 16GB of flash memory within the Eyez™ glasses, transferred via Bluetooth or Micro USB to a computer, or wirelessly transferred to most iPhone or Android devices. After a one-time download of the "Eyez™" smartphone and tablet app, users can wirelessly broadcast the video in real time to their preferred social networking website.
"Sharing personal experiences online will no longer be a written status update and a few photos, but a full length HD video journal," said ZionEyez LLC co-founder Brent Burroff. "Eyez™ gives people the ability to share the world as they see it in real time, from a truly first person perspective, without compromising convenience or style."
Currently, the most popular way to record mobile video is via smartphone or digital camera. However, while the online social network platforms are excellent for receiving the video, physically recording the video remains problematic. Many recorded video streams are short, largely because it is uncomfortable for users to continuously hold their cameras up for longer than a few minutes. Also, users are forced to watch the event they are recording through the miniature mobile phone screen, rather than enjoying the action as it unfolds in front of them.
Eyez™ solves both of these problems. Now users can comfortably broadcast live video completely hands-free, and without the burden of watching it through a tiny screen. Users can simply tap the power sensor, open the Eyez™ app, and then forget about it. Several networking sites, including Qik and LiveStream, will broadcast to users profiles' and save the videos to cloud storage. If users prefer not to broadcast the video to the internet or to their mobile, the data will automatically save to the built-in flash memory, allowing for an easy upload later via Micro USB or Bluetooth.
While employing cutting-edge technological advances, Eyez™ glasses are also practical for daily use. Users can choose from high quality removable lenses in both clear and shaded tones. In addition, the shape of Eyez™ glasses is extremely popular, so most optical stores can easily fit the appropriate prescription lenses.
"Eyez™ will be loved by everyone," says co-founder of ZionEyez LLC, Evan Lindquist. "Dad can broadcast his son's game-winning catch to out-of-town family members so they can all cheer him on in real time. Outdoor enthusiasts will finally be able to stream themselves kayaking, mountain climbing, or snowboarding. A college student can record lectures to study for an exam and then later that night capture the highlights of his campus party scene."
Social networking is constantly being reinvented as technology advances, and the future of live broadcasting online is finally breaking free from its constraints. The world is ready for social networking to take the next big leap into the future, and Eyez™ video recording glasses are at the forefront of this technological evolution.
Visit http://www.zioneyez.com for product details.
Eyez™ Pat. Pending
###