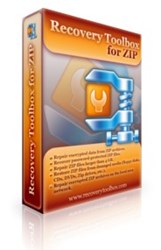 a compact, fast and accurate ZIP repair product intended for home and office use.
Chicago, IL (PRWEB) April 17, 2013
Recovery Toolbox, developer of a large number of data recovery and file repair solutions for email applications, databases, image editors, office tools and a host of other products, announces the extension of its portfolio and the release of Recovery Toolbox for ZIP, a powerful and outstandingly efficient data recovery tool for broken ZIP archives.
The software features an updated recovery engine capable of handling the most serious cases of file corruption and an intuitive interface based on a step-by-step wizard and suitable for users of all skill levels. This ZIP repair tool supports all versions of the Windows operating system, works with damaged ZIP files of any size, decompresses self-extracting archives and fixes CRC checksums as quickly as the performance of the system allows it to. The interface of the program is lightweight and straightforward, which makes this ZIP repair tool a good choice for users with basic PC skills.
"The ZIP archive format remains the number one format of compressed files on the web and offline," explains Victor Bobrov, Lead Developer at Recovery Toolbox. "And since ZIP files are often downloaded from the web, data corruption is a very common problem. Our tool offers top data recovery efficiency and speed, and its interface is a no-brainer, which is what most users look for. The new version of Recovery Toolbox for ZIP uses an improved file analysis engine and we hope that it will help many more users get their data back."
The trial version of the program is available for download from the manufacturer's website.